*I have updated this post from the last one since I decided to watch this a second time. Hehehe!*




Starring:
Mike He as Jiang Meng 江猛
Rainie Yang as Qi Yue 齊悅
Kingone Wang as Sang Yuan Yi 尚源伊
Ivy Fan Xiao Fan as Xin Li Xiang 辛莉香
He Du Lin as Jiang You Hui 江友暉
Ge Wei Ru as Huang Xue Wei 黃雪薇
Masuyama Yuki as Yu Yang Ping 于陽平
Tsai Pei Lin as Qing Zi 晴紫
Fu Xiao Yun as Xiao Cai 小彩
Yuan Jun Hao as Guo Kai 郭凱
Katherine Wang Kai Di as Liu Mei Di 劉美蒂
Figaro Ceng Shao Zong as Yuan Chuan Rang 袁川讓
Wu Zhong Tian as Tian Si Shen 田思慎
Wang Jian Min as Chui Ming 椎名
Tang Qi as Grandma Jiang
Meng Ting Li as Yuan Mei Jin 袁美津
Janel Tsai as Chuang Ya Li 莊雅莉
Huang Xing Lun (黃星倫) as Cai Yi Lang
Xu Qiong Yun (許瓊云) as childhood Qi Yue

Why, oh why? How did it happen? They made me fall in love with this drama! It wasn't supposed to happen. I think I have put this drama off for months and finally grew a wild hair and sat down to watch it. The beginning of the drama didn't appeal to me that is why I alway pushed it aside. This time I actually sat all the way through it....to the end. I wept, I cried tears of joy, I cried some more, I yelled, I laughed, I giggled, I cried some more, and then about lost it at the end. Oh yeah, this one was worth the trauma and heart pain. Oh yeah!I'll admit the end could have been better. I wanted more from the writers. Don't get me wrong. It ended well but I wanted more closure from the characters called Qi Yue and Ahmon/Meng. A proposal, perhaps? They went through all that crap and all we got was a........................*I ain't telllin' ya....watch it to find out*

Qi Yue (Rainie Yang) is a cheerful college girl who harbors a massive crush on the captain of the basketball team, Yuan Yi (Kingone). With the encouragement of her friends, she decides to confess her feelings. However, the next day, with her love letter in her outstretched hands and her head bent, Yuan Yi walks right by her. Qi Yue looks up to find Jiang Meng (Mike He), the school director's son, who has a devilish reputation and a penchant to bully girls. Terrified, she drops the letter and scoots away.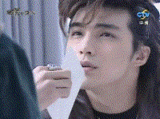 True to his nickname, the devil orders Qi Yue to be his personal servant, else her letter will be revealed to the entire college. Embarrassed and angry, Qi Yue has no choice but to follow in his shadow. A bizarre twist later, she discovers she has feelings for Meng, who, beneath the cool exterior, possesses a soft and loyal heart. Meng returns her affections as well, and at last the dreamy Qi Yue, whose head is made up of romantic fluff, thinks she has found love.

One thing stands in the way, however... How can they be together, when they're about to become brother and sister? And what happens when an arranged marriage and an old love enters both of their already complicated lives?

And at the end of it all....I've come to realize that Mike He is one hot dude. He never really turned me on but then I never really watched any of his stuff...until now. Oh man. He reminded me of Vic Zhou in MARS. Damn! Now I'm going to have to watch all of his dramas just so I can get a Mike He fix. Where's the Marlboro's when I need them? Oh, wait and Kingone! Hello? Umm...another hottie in the mix and Meng's friend Yang Ping (Masuyama Yuki). Both cutie patooties! YOU know I'm putting pics up of these guys!

Mike He


You've heard the phrase "hurt so good"? Well, He makes it hurt sooooo good!
Bull Fighting, Yukan Club (includes members of KAT-TUN), Express Boy, Why Why Love, Marry Me!, and others will now be given more chances to appeal to me. Yukan Club, especially, because it was stupid but I'll try again. LOL!
Kingone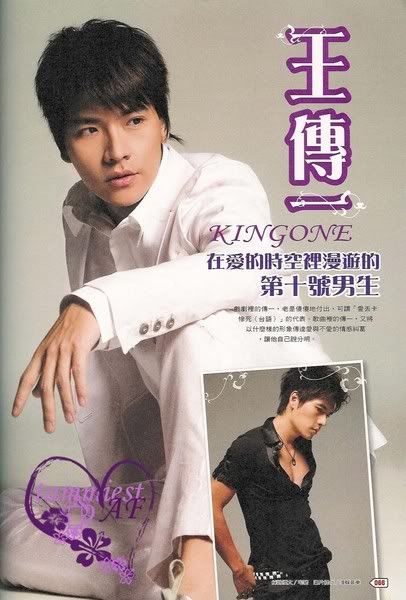 Photobucket was limited in their Kingone photos. Eeergh! Ah well. I find more later.
Dontcha just love pretty boys?