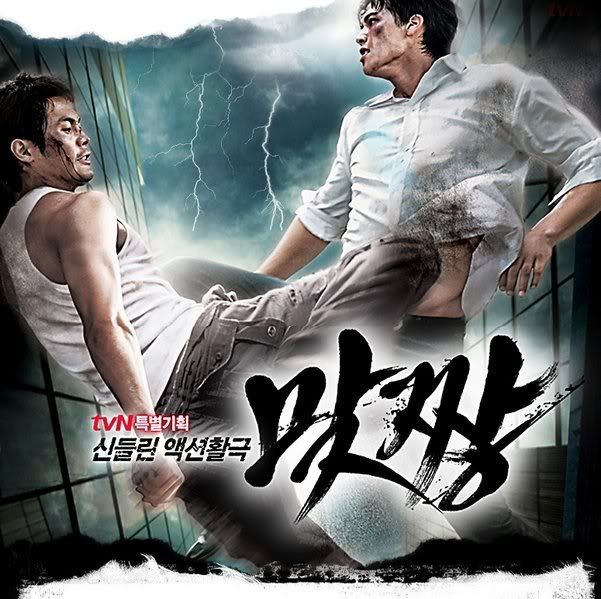 Starring:
Yoo Gun as Kang Gun
Lee Young Jin as So Hee
Lee Jong Soo as Kang Jin
Baek Do Bin as Choi Dae Ri
Kang Sung Jin
Jung Suk Won
Uhm Tae Woong as Kang Gun's father
Kim Soo Ro (cameo)

The drama about men who engage in fights and the deep bond that develops between them.

OMG! Can Yoo Geon look hotter and Baek Do Bin? Aye Carumba!!! The fight scenes were incredible and so believable. Really scripted and so totally well rehearsed. This was a totally awesome drama. I did have only one beef with this though. The very last episode was almost rushed to the extreme. What the.....??? There should have been at least, AT LEAST, 2-3 more episodes. I really wanted to see more of a fight between Choi Dae Ri and Kang Gun. They were leading us up to it......and "poof".....that was it. I really think more could have been done...but the fight scenes throughout the rest of the drama were so amazing that that is what keeps me from giving this drama a failing review. Holy enchilada! The girl, So-hee, well.....she wasn't all that pretty to me. I guess I was expecting someone more "meatier". She was so scrawny and thin. I just don't like those types. Anorexic is soooooo OUT!

I'll admit that I was so enthralled that the thought of searching for fight clubs DID run through my mind. Whew!! Oh, and the opening song is so freakin' awesome that it is now downloaded to my ever loveable iPod.