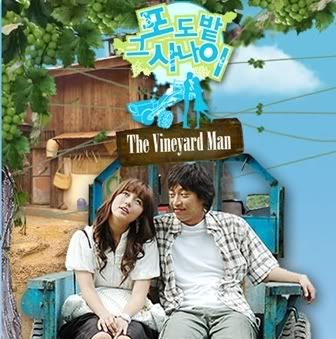 Starring:
Yoon Eun Hye as Lee Ji Hyun
Oh Man Suk as Jang Taek-Gi
Kim Ji Suk as Kim Gyung-Min
Kang Eun Bi as Park Hong-Yi
Lee Soon Jae as Lee Byung-Dal
Jung So Young as Kang Su Jin (30)
Jang Jung Hee as Lee Jang Daek (43)
Lee Dal Hyung as Oh Young Bae (39)

In this romantic-comedy, (an adaptation of the book The Vineyard Man by Kim Rang), Yoon Eun Hye plays Lee Ji Hyun, a clothing designer in Seoul, who reluctantly leaves home for one year to work at her grand uncle's vineyard in a small village. However when arriving in the country, she reunites with a Jang Taek Gi Oh Man Suk, a local resident who had been wrongfully arrested in Seoul by police after Ji Hyun reported having a dress-which she had designed-had been stolen. The two clash frequently as Ji Hyun has a difficult time adjusting to life in the country and working with Taek Gi. However, after many twists and turns Ji Hyun adapts to rustic life while falling in love with Taek Gi.

LOL! This was a riot. Yoon Eun Hye, the queen of situation comedy, was brilliant. This had the making of a typical romantic Korean drama but the story itself was unique and original. Enough so, that I had to watch it in one go. Oh Man Suk, the not the most handsome of men, but cute as the shy, naive vineyard worker (Taek-gi) who eventually falls in love with Ji-hyun. The bickering that eventually led to understanding then to love was truly heartwarming. Hey, even the ending was nice. This drama not the greatest, but truly original, will gladly put smiles on faces and leave us with a beautiful sigh at the end.

You will truly fall in love with the characters. A very beautiful love story..............