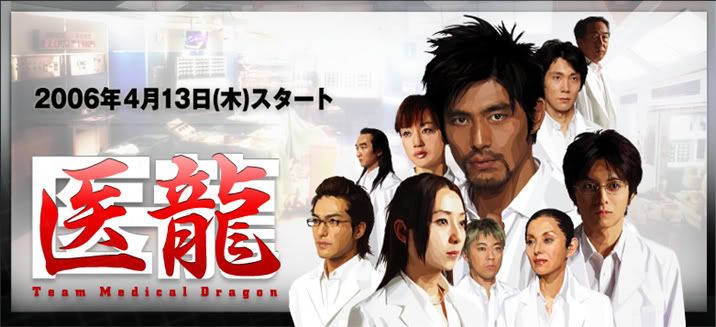 Season One
Starring:
Sakaguchi Kenji as Asada Ryuutarou
Inamori Izumi as Katou Akira
Mizukawa Asami as Satohara Miki
Koike Teppei as Ijyuuin Noboru
Natsuki Mari as Kitou Shoko
Kitamura Kazuki as Kirima Gunji
Abe Sadao as Arase Monji
Sasaki Kuranosuke as Fujiyoshi Keishi
Kishibe Ittoku as Noguchi Keno
Ikeda Tetsuhiro
Mukaichi Mion
Kanai Yuta (ep5-6)
Shimizu Koji (ep8-11)

Ryutaro Asada is enjoying his peaceful life in the countryside, when he is visited by Akira Kato, assistant professor of the Faculty of Cardiac Surgery at Meishin University Medical Hospital.

Ryutaro is a genius surgeon who used to lead "Team Medical Dragon," a world-class NGO medical team. In harsh environments that lacked medicine and electricity, Ryutaro witnessed many lives pass away. At the same time, he saved many other lives, helping his matchless skill overwhelm other doctors.

As a female doctor, Akira managed to become an assistant professor. She has ambitions to be promoted to professor by succeeding in a surgery using the Batista technique — an extremely difficult type of heart surgery — and also by writing a paper on it. A year ago, Akira witnessed Ryutaro's skills when he was an NGO doctor. That's why she recruits him and asks him to use the Batista technique. Since Ryutaro's arrival, urgent patients who would have been abandoned in the past, are miraculously saved by the "hands of God." --Fuji TV



Season Two
Starring:
Sakaguchi Kenji as Asada Ryutaro
Uchida Yuki as Kataoka Kazumi
Koike Teppei as Ijyuuin Noboru
Otsuka Nene as Kodaka Nanami
Kitamura Kazuki as Kirishima Gunji
Abe Sadao as Arase Monji
Mizukawa Asami as Satohara Miki
Sasaki Kuranosuke as Fujiyoshi Keisuke
Natsuki Mari as Kito Shoko
Kishibe Ittoku as Noguchi Takeo
Ikeda Tetsuhiro as Kihara Takehiko
Sato Jiro as Matsudaira Kotaro
Shiga Kotaro as Zenda Hideki
Takahashi Issei as Toyama Seiji
Nakamura Yasuhi as Nomura Hirohito
Supporting Cast
Ryo as Togashi Yukari (ep1)
Tanaka Minoru as Togashi Tsuyoshi (ep1)
Itao Itsuji (ep1)
Kawahara Sabu (ep1)
Kikuchi Kinya (ep1-2,10-11)
Nakamura Keiko (中村慧子) (ep1,10-11)
Umishima Yuki (ep1-2,10-11)
Yoshino Maki (吉野真希) (ep1,3,10-11)
Aoki Hajime (ep1,10)
Asari Shogo (浅里昌吾) (ep1,4,10-11)
Okamoto Ryuta (ep1)
Tawaragi Tota (ep1)
Utagawa Shiko (歌川椎子) (ep1)
Otake Koichi (大竹浩一) (ep1,6)
Watanabe Kouhei (渡邉紘平) (ep1,5-7)
Minami Shuhei (南周平) (ep1)
Kobayashi Setsuko (小林節子) (ep1)
Nakazawa Junko (ep1,3-9)
Tsuchiya Fumiko (土屋史子) (ep1,3-9)
Nozaki Kazuma (野崎数馬) (ep1)
Hida Koji (飛田晃治) (ep1,5)
Fujita Sasami (藤田三三三) (ep1-5)
Imamura Koichi (今村公一) (ep1)
Komori Kotoyo (小森琴世) (ep1)
Kato Masato (加藤雅人) (ep1)
Michael (ep1)
Hershel (ep1)
Manfred (ep1)
Takeda Yuko (武田祐子) (ep1,6)
Muta Teizo (牟田悌三) as Nishizawa Takafumi (ep2-3)
Yamamoto Yusuke as Nishizawa Eita (ep2-3)
Kodama Raishin (児玉頼信) (ep2)
Tokunaga Atsushi (徳永淳) (ep2,6,11)
Saeki Arata (佐伯新) (ep2)
Hoshino Akiko (星野晶子) (ep2)
Miyashita Tomomi (宮下ともみ) (ep2)
Fujimoto Itaru (藤本至) (ep2)
Ogura Terukazu (小倉輝一) (ep2)
Hamachika Takanori (浜近高徳) (ep3-4,6)
Ichikawa Chieko (市川千恵子) (ep3)
Mitsue Takashi (三枝貴志) (ep3,5-8)
Hofuku Norihiko (法福法彦) (ep3)
Tsutsumi Masataka (堤匡孝) (ep3,10-11)
Ryu Raita as Onda Tetsuzo (ep4-5)
Kurokawa Tomoka as Ogata Miu (ep4-5)
Ono Ryo (ep4-5)
Yanagida Erika (柳田衣里佳) (ep4-5)
Yoshino Yoshiko (よしのよしこ) (ep4)
Otsuru Gitan (ep4-5)
Uchikura Kenji (内倉憲二) (ep4,10-11)
Haneda Yoichi (羽根田陽一) (ep4)
Okuwa Maimi (大桑マイミ) (ep4)
Ninomiya Satoshi (二宮聡) (ep4,7)
Deguchi Takashi (出口高司) (ep5)
Inaba Daisuke (稲葉大助) (ep5)
Hashimoto Chieko (橋本智恵子) (ep5)
Yamauchi Kumi (山内紅実) (ep5)
Kusamura Reiko (ep6)
Kawashima Umika (ep6-7)
Hiyama Takekazu (樋山剛一) (ep6)
Yamada Goichi (山田吾一) (ep6)
Sugiyama Ayano (杉山あやの) (ep6)
Kurana Rin (くらなりん) (ep6)
Kubozono Junichi (窪園純一) (ep6)
Takehatsu Shiro (武発史郎) (ep6)
Takahashi Hitomi (ep7)
Sunaga Kei (ep7)
Kugasawa Toru (久ヶ沢徹) (ep7)
Nakamura Keita (中村圭太) (ep7)
Inoue Ko (井上康) (ep7)
Nomura Hironobu (ep8)
Hongo Kanata (ep8)
Nakagome Sachiko (中込佐知子) (ep8)
Okazaki Hiroshi (岡崎宏) (ep8)
Arakawa Fumiko (新川史子) (ep8)
Kikawa Junichi (木川淳一) (ep8)
Takagi Ryo (高木涼生) (ep8)
Nagano Satomi (長野里美) (ep9-11)
Tanaka Oga (田中碧海) (ep9-11)
Shimazu Kentaro (島津健太郎) (ep9)
Mukai Osamu (向井修) (ep9)
Hisamatsu Nobuyoshi (久松信美) (ep9,11)
Nakamura Seiya (中村星哉) (ep9-10)
Kishibe Daisuke (岸部大輔) (ep9)
Kojima Yasushi (小島康志) (ep9)
Sugimoto Hitona (杉本妃音奈) (ep9)
Nakamura Makoto (中村まこと) (ep10-11)
Kumabe Youhei (隈部洋平) (ep10-11)
Mori Kouko (森康子) (ep10)
Nishiyama Shugo (西山周吾) (ep10)
Ishikawa Yasuko (石川泰子) (ep10-11)
Sugimoto Jyunya (杉本潤哉) (ep10-11)
Yasuoka Sunao (安岡直) (ep10)
Miyanari Ryuji (宮成竜二) (ep10)
Kishi Hiroyuki (ep11)
Hiwatashi Shinji (樋渡真司) (ep11)

In Iryu 2, Asada Ryutaro wages a new battle against the realities of Japan's medical care system. The government has drafted legislation to tackle the recent inflation of medical fees; hospitals have entered an era in which they will go bankrupt if they aren't independently run. At the same time, hospital mergers and takeovers are also taking place. Additionally, the obstetrics and pediatrics departments are being closed in succession, and there are inadequate doctors in the region - issues that are closely related to these hospital management problems. Now, hospitals, like the average corporation, face collapse if they are not profitable.

OMG! This drama rocked my freakin' socks off! Sakaguchi Kenji is so damn fine. You will know why in the first scene of the first episode in the first season. Naked + godlike body + sex scene = hentai thoughts. OMG!

From there on in, the drama was simply amazing. Both seasons. The second was more repetitive but that was okay. Really. I thought Code Blue was cool until I came across this and decided that Code Blue was a pansie-ass drama. Same idea but this drama was more indepth. OMG! A definite must see. The comedy was just right. You'll know why when you see Ikeda Tetsuhiro's character and Koike Teppei's character intermingle. Go Harry!! (You'll know what I mean by that once you see it......)

Truly touching drama! Truly. Truly!