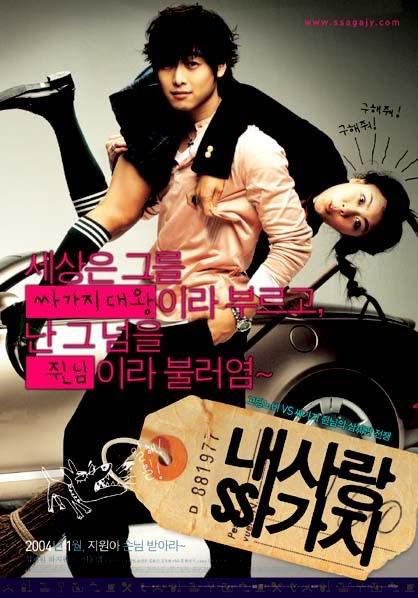 Starring:
Jae-won Kim - Lee Hyeong-jun
Ji-won Ha - Kang Ha-yeong
Tae-hyeon Kim - Yeong-eun
Min Han - Hyeon-ju
Chang-wan Kim - Ha-yeong's Father
Ji-Yeong Hong
Ji-yu Kim
Min-kyeong Kim
Eung-kyung Lee - Ha-yeong's Mother
Yong-geon Kim

After being dumped by her boyfriend just before their 100 day anniversary, Ha-Young, meets a college guy named Hyung-Joon when she accidentally kicks a can that hits him in the face and causes him to scratch his Lexus. He demands she pay him $3000 on the spot. She escapes from him, leaving her wallet behind.

Hyung-Joon stalks her, demanding money to pay for his car. Since she is a poor high school student Hyung-Joon writes up a "Enslavement Agreement" for Ha-Young in order to pay for the damage to his car. Ha-Young is thrown into a nightmarish slave life for 100 days, cleaning his house, running his errands, doing his homework and cleaning his car.


By accident she finds out that the damage to Hyung-Joon's car only costs $10! She then takes her revenge. However, before she knows it Hyung-Joon shows up at her house as her new tutor! He once again takes advantage of her, but soon Ha-Young finds herself falling head over heels for Hyung-Joon.

But what happens when he drops out of her life just when she needs him most?



I loved this movie. I thought I had already posted about this. Nope! I watched this for a second time since some of my favorite dramas hadn't been updated and I was terribly bored. LOL!

This was a terribly sweet movie and Kim Jae Won was hilariously funny!

A tender romance that started out with a love/hate relationship between the two main characters. A typical Korean movie for the young masses. Such a feel good movie that leaves you happy on a crappy day.

Kim Jae Won