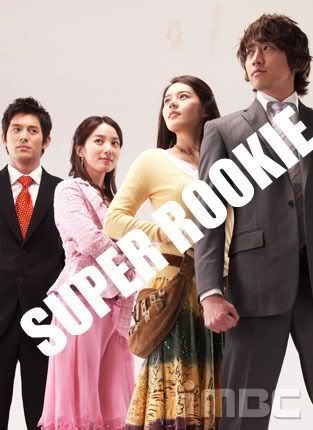 Starring:
Eric as Kang Ho
Han Ga In as Lee Mi-ok
Oh Ji Ho as Park Bong-sam
Lee So Yeon as Suh Hyun-ah
Extended Cast
Jung Jin as Joo Sung-tae (Kang Ho's friend)
Park Chil Yong as Kang Chul (Kang Ho's dad)
Park Hye Sook as Gong Hye-ja (Kang Ho's mom)
Suh Dong Won as Kang Min (Kang Ho's younger brother)
Kwon Ki Sun as Madam Kwon
Yang Hee Kyung as Madam Yang
Kim Young Min as Lee Il-man (Bong-sam's dad)
Kim Se Joon as Chief Moon Young-ho
Lee Ki Young as Chief Goo Bon-chul
Kim Il Woo as Director Song
Lee Ki Yeol as Director Kim Ki-yeol
Kaekeumaen Kim Sook as Agent Na Aeri
Yoo Da Young as Oh Young-ran
Lee Seung Chul as Chairman Maruyama
Suh Bum Sik as Miyazaki
Kim Hun Goo as Yakuza
Jung Joon Ha as Kochi
Kim Sook as Sook-hee


Super Rookie (신입사원: rookie employee) is an intelligent comedy which gives hope and courage to young people going through difficult times.


It is a story of a young man (Kang Ho) who gets a job in a prestigious company due to a computer error. He doesn't have a great family or educational background and is regarded as a slacker in the traditional terms. Worst yet, he seems to spend his life devoted to reading comic books, playing cards, kick boxing, and the like. However he is spirited, street smart, athletic, loyal, and charismatic - especially with the ladies. The drama reveals how he gets his new job, his work-life, and the love and passions in his life in a very interesting way. He never gets discouraged despite all of life's difficulties. Kang Ho's high spirits and Mi-ok's efforts to improve her life give today's younger generation a chance to look at their own lives and ponder what's truly valuable.




Source: MBC Global Media

Okay, I loved AND hated this show. This really started out with promise. I was hooked until episode 15 and then got so damn bored that I stopped watching it. So I can't give you my opinion about the end but if it's anywhere near what I went through at episode 15. It was boring as hell.

Where were they going with this story? Was this supposed to be a romance? If it was.....it failed miserably. She, Mi-ok, couldn't seem to figure out who she really loved. I was going for Eric's character. But both mail leads were pretty damn hot....so either or would have been fine. But this wishy-washy storyline was absolute torture.

The only fine point out of this story......Kang-ho's brother. He was absolutely perfect in every freakin' way. I laughed uncontrollably when it came to him and his interactions with Kang-ho. Oh, it was freakin' funny! I so loved him. They should have had the show revolve around him. I'd have probably stuck it till the end.

Okay, I have heard about the ending. Sounds cute but yet I can't bring myself to torture for another 5 episodes. Sorry.

Oh Ji Ho