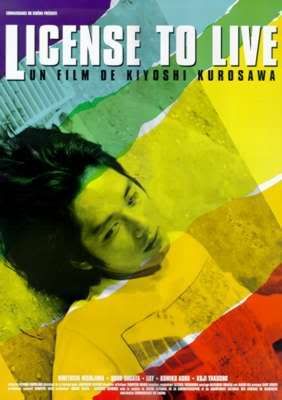 Starring:
Hidetoshi Nishijima - Yutaka
Shun Sugata - Shinichiro
Lily - Sachiko
Kumiko Aso - Chizuru
Sho Aikawa - Kazaki
Yoriko Douguchi - Miki
Ren Osugi - Murota
Hiromitsu Suzuki - Kurume
Kosuke Toyohara - Doctor
Kôji Yakusho - Fujimori
Masahiro Toda - Akira Ueda
Michiko Yamamura - Ueda's Mother
Taro Suwa
Akira Otaka - Garbage Man
Masaharu Ishibashi - News Announcer

Twenty-four year old Yutaka wakes from a coma after 10 years, only to find that the family he remembers from before the accident has fragmented. His parents have spearated, his sister moved to the US, and he can't even find his mother. Confused, he tries to find old friends, only to discover he has nothing to talk to them about. He sets about bringing his family back together, but is halted in his tracks by a chance encounter with the man responsible for his accident.

This was an overly slow movie. Slooooooooooow! Lots of still shots. And those stills were seconds long.

The focus of the movie was to show how Yutaka's life had changed in the 10 years he was in the coma but instead it showed that maybe being in a coma wasn't so bad.

I was terribly confused as to why his family didn't take the first plane, train, automobile to his side once he had awaken. Instead we find him with his father's best college buddy who was not so interested in being the babysitter.

This was listed as a comedy but to me it wasn't that at all. Yeah, there were some cute moments that had you smile but not so much so to make you laugh. The best moment, I thought, was when Fujimori dragged Yutaka to an exotic massage parlor. But after the experience, it wasn't all that to him. Even though he was in a 24 year old body, his brain still functioned as that of a 14 year old....so sex wasn't the experience he had imagined or not imagined...depending on how you look at it.

Surprisingly, it was the last scenes at the very end of the movie that had me. Yutaka-"Did I actually exist?" Fujimori-"Yeah, you existed." And then the surpising ending that had me in tears. It was so sad. Just thinking about it now makes my heart ache......................

It was hard getting through this movie because it wasn't an action nor comedy. But the ending was worth the time...............