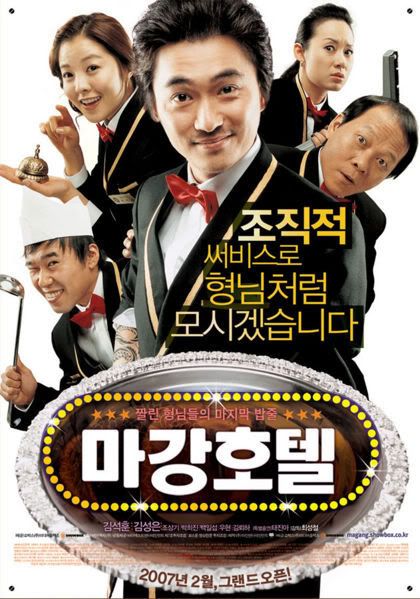 Starring:
Seok-Hun Kim
Seong-eun Kim
Sang-ki Jo
Hee Jin Park
Roe-ha Kim
Il-seob Baek
Hyeon Woo
Kil-soo Park
Dang-hyeong Lee
Hee-seon Son
Ki-seok Do

Korea's crime world is in turmoil after its biggest gangs have decided to go corporate--eliminating redundant "employees" to cut costs! Now one gangster in danger of losing his "job" must prove his worth by extorting a huge sum from a local hotel.

Two rival gangs decide to send two men each to a rural hotel to force the owners to repay their debts, but they underestimate the will and resourcefulness of the hotel staff.



LOL! This was a cute movie! I wasn't so sure but I saw a few reviews that said it was worth watching....so I gave in.

It has an interesting plot, good characters, and a surprising momentum that keeps you interested.

Sometime the comedy went a little over the top but that was okay because it kept you laughing at some really outrageous moments and kept the story from getting boring.

This was a great boredom buster. Enjoy!