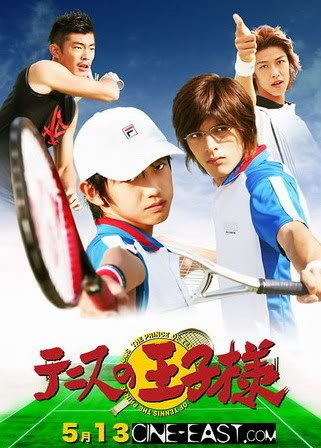 Starring:
Kanata Hongo - Ryoma Echizen
Yuu Shirota - Kunimitsu Tezuka
Hiroki Aiba - Syuusuke Fuji
Hiroki Suzuki - Syuuichiro Oishi
Masato Wada - Sengoku Kiyosumi
Osamu Adachi - Eiji Kikumaru
Hirofumi Araki - Sadaharu Inui
Yoshikazu Kotani - Takashi Kawamura
Masaki Kaji - Takeshi Momoshiro
Kousuke Kujirai - Kaoru Kaidoh
Ryuuji Sainei - Keigo Atobe
Rikiya - Egate Mcleod Higaki
Goro Kishitani - Nanjiroh Echizen
Hitomi Shimatani - Sumire Ryuuzaki
Sayuri Iwata - Shion Higaki
Kouji Date - Choutarou Ohtori
Tokio Emoto - Gakuto Mukahi
Genki Ishii - Jirou Akutagawa
Daiki Nakae - Yuushi Oshitari
Junpei Suzuki - Shishido Ryou
Kazutoshi Yamakawa - Munehiro Kabaji
Yasuka Saito - Shinji Ibu
Yuuki Fujiwara - Akira Kamio
Daiki Sano - Aoi Kentarou
Eiji Moriyama - Genichirou Sanada
Juri - Hikaru Amane
Mitsuyoshi Shinoda - Sasabe
Kenta Kamakari - Sasabe's friend #1
Takashi Nagayama - Sasabe's friend #2
Yusuke Ishibashi - Referee
Shun Takagi - Masaya Sakurai
Ruito Aoyagi - Bystander
Ryou Washimi - Bystander
Takumi Saito - Bystander

Kanata Hongo stars as tennis prodigy Echizen Ryoma who, after winning four consecutive victories in the USA, is brought back to Japan by his father and enrolled in the prestigious Seishun Academy Middle School, famous for its tennis team.


Ryoma soon finds himself the only first-year on the school team, playing alongside school captain and national player Tezuka Kunimitsu, cool-headed Oishi Syuichirou and the acrobatic Kikamura Eiji. He also attracts the attentions of Higaki Shioin, a strange and quiet girl who watches him attentively from the bleachers. Can Ryoma successfully juggle sports, school, girls and life in a new country to earn the title Prince Of Tennis?



This is my second time to watch this. I really wanted a refresher course but maybe I should have rewatched the anime's instead since they are more closer to the manga than anything else.

I'm not saying this is a bad movie. Not at all. It's just hard to fit a year's worth of manga into two hours. They did their best. It was fun to watch but if you have read the manga and watched the animes...well, this would be a disappointment. Luckily, I saw this first before anything else. So I wasn't a wee bit angry. And I'm still not.

I hope they make a PoT 2. They need to finish the manga out....even if we have to have a 3rd movie. They pulled a 3rd Deathnote out of their asses...they can do the same for PoT.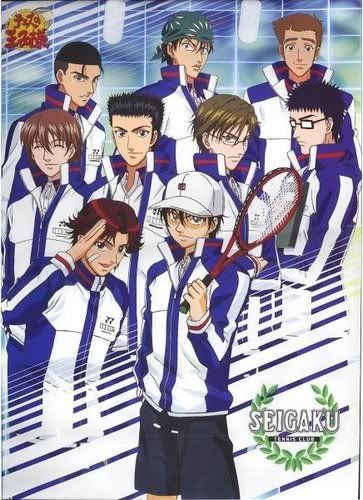 I love the manga/anime series so much! I hated the fact that it ended. I, actually, balled like a baby. I was a blubbering idiot. Yeah, I know you're laughing. *Ha-Ha*