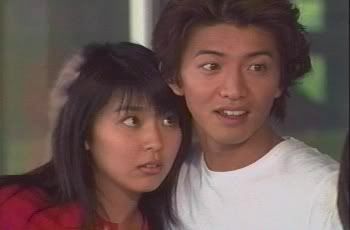 Starring:
Kimura Takuya as Katagiri Teppei
Matsu Takako as Uesugi Riko
Fujiwara Norika as Takagi Erika
Uchino Masaaki as Katagiri Soichiro
Junna Risa as Mizuhara Sanae
Moriguchi Yoko as Shiroishi Nami
Hirata Mitsuru as Kurosaki Takeshi
Kawabata Ryuta as Yoshimoto Tamio
Izutsu Shinsuke as Sasaki Taisaku
Kishi Hiroyuki as Ootemon
Fukiishi Kazue as Uesugi Midori
Nakamura Ikuji as Ishihara
Inoue Takashi as Yoda
Yamazaki Naoki as Hosaka
Kondo Kyozo as Tsuji
Harada Shuichi as Hioki
Nomura Shinji as Shimamura Mitsuru
Shiina Kippei (guest) as Ogasahara Korekiyo
Igarashi Izumi as Uesugi Youko
Suzuki Mie as Uesugi Sachiko
Kurotani Tomoka as Harumi
Igawa Hisashi as Uesugi Ken'ichi
Namase Katsuhisa as Ando-san
Sato Tamao
Shinagawa Toru

Katagiri Teppei (Kimura Takuya) is a promising creative agent, but whose attitude gets him transferred to the sales department. He has to learn to adapt to the new working environment, which includes cutting his precious locks of hair to create a neater and more appropriate image. Helping him along the way is Uesugi Riko (Matsu Takako), whom he tried to pick up along the street earlier but was tricked by her instead. Riko does not have a good impression of him at first, but falls for him gradually. However, Teppei runs into his ex-girlfriend Mizuhara Sanae (Junna Risa) who is now the girlfriend of his brother Soichiro (Uchino Masaaki). Consoling him is Riko, whom Teppei likes gradually. Just when Teppei and Riko start dating, Sanae realises that she still likes Teppei...
-- JDorama.com

This is the second time I have watched this. I think this was one of the first dramas I had seen. I think I had been on a Kimura Takuya kick then. I watched a bazillion of his dramas in a row. LOL!

This, too, is one of my favorites. You watch as Teppei slowly falls in love with Riko. Their first encounter was a bomb in a male pride way. LOL! Their friendship started as affible, grew, and grew. I will admit I wasn't all that with Riko's character at first but you eventually understand how her love became almost a possession but then yet her actions (even though a little extreme) were absolutely believable from a female perspective.

If by chance, you haven't seen this drama, give it a whirl. It is an oldie but goodie. And, he too, is a little younger (this being 10 years ago!) and oh soooo cute!!