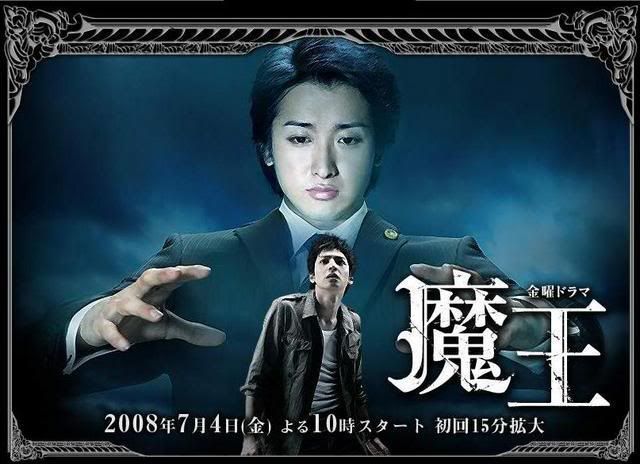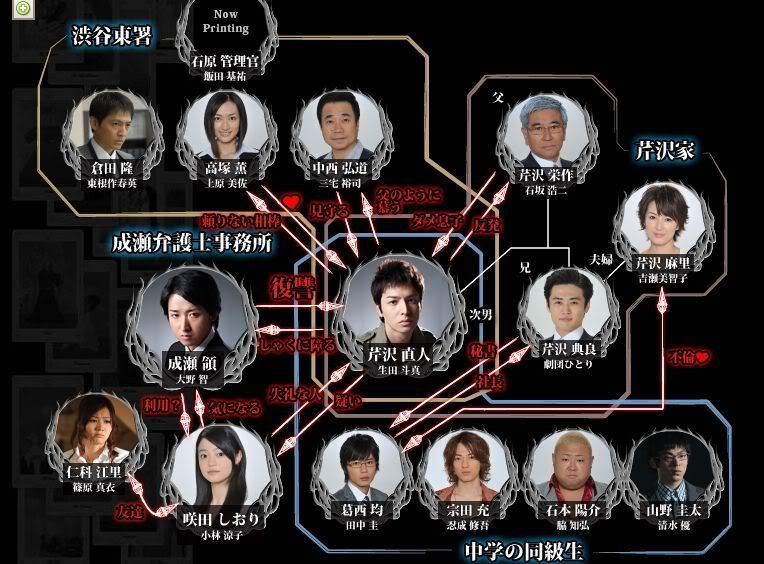 Starring:
Ohno Satoshi as Naruse Ryo/Mannaka Tomoo
Kouno Hiroki as young Tomoo (11 years ago)
Ikuta Toma as Serizawa Naoto
Kimura Haruki as young Naoto (11 years ago)
Kobayashi Ryoko as Sakita Shiori
Masuyama Kayano as young Shiori (11 years ago)
Tanaka Kei as Kasai Hitoshi
Uemura Yuto as young Hitoshi (11 years ago)
Oshinari Shugo as Soda Mitsuru
Honma Haruo as young Mitsuru (11 years ago)
Waki Tomohiro as Ishimoto Yosuke
Nakamura Ryunoshin (中村竜之慎) as young Yosuke (11 years ago)
Uehara Misa as Takatsuka Kaoru
Shinohara Mai as Nishina Eri
Shimizu Yutaka (清水優) as Yamano Makoto
Horimoto Takaya (堀本昴弥) as young Makoto
Iida Kisuke as Ishihara Kanrikan
Tonesaku Toshihide as Kurata Takashi
Kichise Michiko as Serizawa Mari
Gekidan Hitori as Serizawa Noriyoshi
Miyake Yuji (三宅裕司) as Nakanishi Hiromichi
Ishizaka Koji as Serizawa Eisaku
Takeuchi Toshi (竹内寿) as Mannaka Hideo
Guests
Ninomiya Kazunari as Kumada Masayoshi (ep1)
Asaka Mayumi as Mannaka Yoshimi (ep1,2,4)
Morishita Tetsuo as Kumada Takahiro (ep1,2)
Kitaro as Hayashi Kunio (ep1,2)
Okunuki Kaoru as Shintani Tae (ep2-)
Ono Momoka (大野百花) as Shintani Sora (ep2-)
Musaka Naomasa as Ikehata Takahiro (ep4-7)
Yuka as Naruse Makiko (ep4-7)
Tanino Ota (谷野欧太) as the real Naruse Ryo (ep5-)
Shimada Kyusaku as Osumi Kazuma (ep5-)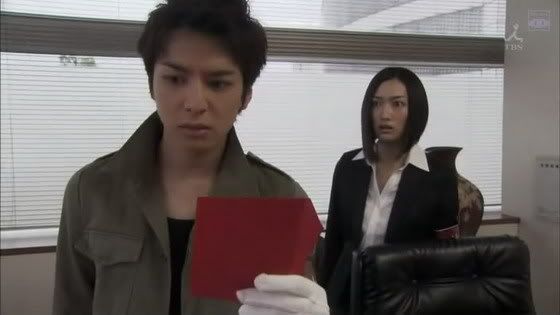 This drama is a remake of the popular suspense drama The Devil that was aired in Korea last year. Ohno Satoshi will be playing the role of a two-faced lawyer, one of which is a kind hearted soul and the other who is plotting revenge, using his brilliant mind, on the person who killed his relative. On the other hand, Ikuta Toma will play the double lead role of the man, who has become a detective due to his dark past, who is pursuing the mysterious series of murders and fighting against the devil (maou).


OMG! OMG! OMG! This drama rocked my world and then some.

This was the very first drama that I had to wait patiently for but it was so hard. I would check all drama websites for updates. I would scream and curse if it wasn't posted yet. *Nothing against the subbers. I swear!* I just loved this drama so much. I loved Arashi's opening theme. I loved the actors. I loved the script. I loved the whole damn thing from the bottom of my heart.

It was sooooo hard to hate Naruse (Ohno). You understood his dilemma, his pain, and his revenge. Ohno-kun was perfect for this role. He balanced the evil and angelic parts so well. His face was the perfect picture of self-righteousness and fallen angel. As the story went on, it got so hard to see the evil in him but only the spiral of the hurricane that had swept him out into the abyss of retribution.


I wasn't at all sure how well Toma-kun was going to pull off the character of Serizawa Naoto. All I can see is the dumb, goofy guy from Hana Kimi. Well, taking on the serious role of the rebellious but yet law abiding detective fit him perfectly as well. Every episode, I would silently weep for him and the travels he had to take to receive redemption. *sigh* It was like, how much more should he suffer after carrying the weight of guilt of his past sins? How much more did he have to suffer?


I will say that as I watched the ending...the last episode...I felt myself tense up. I wasn't sure how this would play out. I didn't want a crappy ending. But there was hope...this is a Japanese drama after all.

As it got closer and closer....my heart ached. Then I got angry. Then I cried some more. Then this "whoosh" of air was expelled from my chest as I realized I was holding back my breath and the pain of my tears. The ending became PERFECT. I won't say if it was a happy or sad ending but will say that I now have a runny nose and tear stained cheeks. Tears of joy? Or happiness? You decide.

Ohno Satoshi


Look at this pretty face.......*sigh* Can I keep him?