Starring:
Takeru Sato - Masked Rider Den-O
Yuriko Shiratori - Hana
Yuichi Nakamura (中村優一)
Rina Akiyama (秋山莉奈)
Kenjiro Ishimaru (石丸謙次郎)
Aki Hoshino (星野亜希)
Hiroyuki Watanabe (渡辺裕之)
Tomonori Jinnai (陣内智則)

"The time train, Den-Liner. Will the next station be in the past or the future?" (時の列車デンライナー。次の駅は過去か未来か。, Toki no ressha Denrainā. Tsugi no eki wa kako ka mirai ka.?)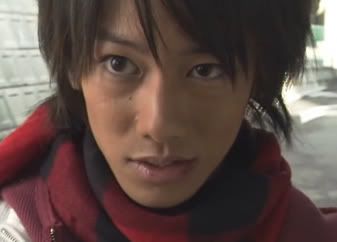 Ryotaro Nogami is a young man with a lot of bad luck. One day, he finds a strange pass and things got stranger from a mysterious girl and a large time-traveling train to being possessed by an entity called an Imagin, beings from an alternate future whose kind are attempting to change the past. Though slightly confused about the nature of the crisis, Ryotaro, along with the aid of the hot-headed Imagin, dubbed Momotaros, becomes Kamen Rider Den-O, traveling to different times on the Den-Liner to battle the evil Imagin to prevent them from altering the past to affect the present and future.

During his adventure, Ryotaro is joined by other Imagin who aid him as well; the womanizing Urataros, the herculean (and narcoleptic) Kintaros, and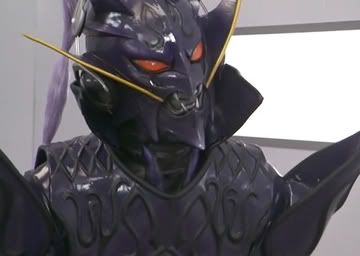 the childish yet powerful Ryutaros. He later meets the mysterious Yuto Sakurai and his bumbling Imagin partner Deneb.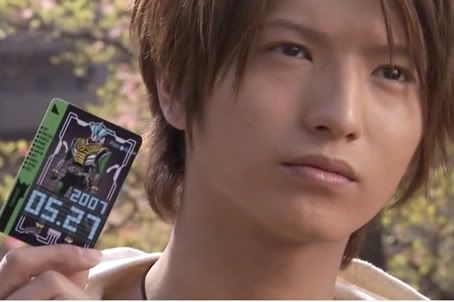 Yuto is not only Kamen Rider Zeronos but is the younger incarnation of Ryotaro's older sister Airi's fiance, Sakurai, who mysteriously disappeared and is tied to the mysteries revolving the Imagin and the Junction Point.

You knew this one was comin'. LOL!

Sorry, I haven't posted in a while. This past weekend, I had to go camping with my son's cub scout pack. It's been a long weeeeeeeeeekend. I'm so tired. Just typing this is draining what is left of my energy.

Well, this KR seemed to take forever for me to watch. It wasn't that appealing to me at first. The story line was confusing and it seemed forever before I caught on. I will say this......okay.....this was the most hilarious out of all the KR's I've seen so far. OMG! The Imagin's that possessed Ryotaro were insane. Momo was a hoot. But I will say I think I liked Urataros and Ryutaros the best. Urataros and his chauvinistic ways and Ryutaros' sweet, childish rants were a joy to watch. I think I cried everytime Ryutaros did. I'm not joking. He was so sweet and innocent and truly loved Airi. *sigh*

I'm still a little confused at the end, so I'm hoping the three movies (yes, I will watch them eventually) will clear up some of my confusion.

I'm so happy that I finally finished this though. I thought I never would. Takeru-kun's voice was so sweet and gentle, it was really hard for me to put him as a KR but I guess Momo's possession made up for that. Yo, and Takeru can dance (while possessed by Ryotaros). But we all know in real life, that was Takeru-kun!!!! Very talented!!!