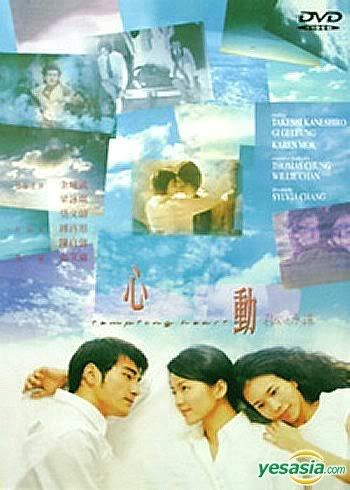 Starring:
Takeshi Kaneshiro - Ho-jun
Gigi Leung - Sheo-rou
Karen Mok - Chen-Li
Sylvia Chang - Cheryl
Leon Dai - Ho-jun (middle age)
Elaine Jin - Sheo-rou's mom
Jo Kuk
Audrey Mak
William So Wing Hong - Screenwriter (as William So)
Michael Tong
Cher Yeung

Sylvia Chang plays a director who intends to make a romance film and begins to wonder about the role fate plays in relationships. She ends up re-examining her own first love in a completely different light. The story is set in two different periods of time, one in the 1970s where Gigi plays the teenage girl of Sylvia Chang and the other in the 1990s where Sylvia plays her own role.

Takeshi Kaneshiro plays the role of a shy teenager who falls in love with Gigi Leung. Their relationship turns intimate but faces objections from their parents. Karen Mok plays Chen-li, the best friend of Gigi, whom Gigi confides in and tells all her problems.

This teenage love soon fizzled and Ho-jun turns to marry Chen-li. Chen-li then reveals that she is a homosexual and they both love the same girl-Xiao rou. Ho-jun meets Xiao rou on a trip to Japan and upon knowing that Ho-jun was already married, Xiao rou returned home and got engaged herself. Ho jun manages a last attempt to reunite with Xiao rou by flying to Hong Kong and telling her that he is already a divorcee but to no avail.

It was years later, that Xiao Rou found out that Ho-jun's wife was actually Chen-li. She discovered this only after Chen-li had died. Chen-li left a message for Xiao-rou asking her for forgiveness. As Xiao rou prepared to fly back to Hong Kong from Japan, she received a present from Ho-jun. Inside the box,were photographs, each taken while Ho-jun was thinking about Xiao-rou of their brief and bright moments of happiness.



Geez! I was not expecting the ending. Come on! I was really a happy camper until this movie left me feeling......"blah". Let me describe it to you. It's like waking up to dark clouds hanging over your head and life seems like it can't seem to be any worse than it is.

Don't get me wrong. This movie was totally awesome. So how can I say that even if the end of the movie was torture? Well. Hmm? I really, really, really wanted a happy ending. Instead, I'm bawling my eyes out after she opens the box that Ho-jun gives her after she gets on the plane. God in Heaven! This story, I thought, through all the sad moments would eventually leave a wonderful light on my soul. Instead, my heart was broken, and I felt that love was a dream.

Beautifully mastered movie. Takeshi-kun totally rocked my world again. I'm tellin' ya, the man is amazing. Totally amazing actor that just....well....okay, if I just happened to see him one day on the street, I'd drop everything and molest the man.

*sigh*

Don't watch this movie if you are already not in the frame of mind. It's a tearful movie. The tone is that of love lost and never regained. Memories of your first love will invade your soul and reap whatever is left of your happy mood.

Kaneshiro Takeshi


"Can I have him to go, please?"