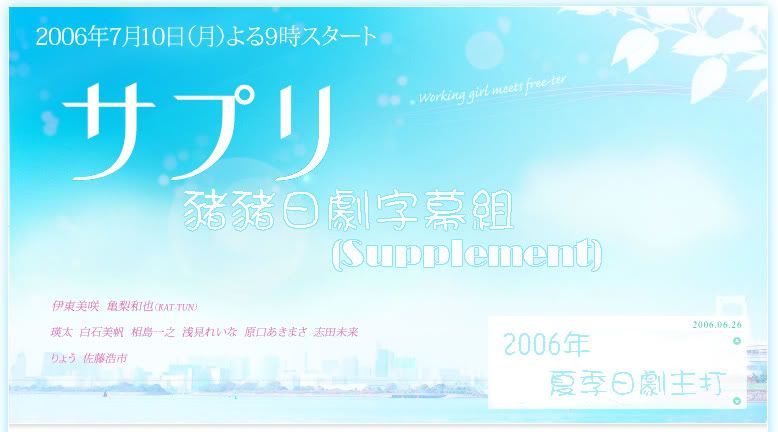 Suppli means supplement in Japanese.

Just got done watching this. I'm not sure how I feel about it. I mean, come on, it has my Kazuya-kun in it. Cute as ever, but..........ehhh. It started out really good and then fizzled at the end. I will admit the sub-plot with Imaoka Kyotaro and his daughter was really good. I teared up a bit when....well, you have to see it to know what I mean. I'm not out to spoil the show. I was all out routing for Ogiwara Satoshi (Eita) to hook up with Fujii Minami. It was just so hard for me to believe Kazuya-kun's character could really be well-suited with Fujii. He was better off with Watanabe Yuri (Asami Reina, the actress, also played in Heaven's Tree as the evil cousin).

The story is about Ishida Yuya (Kazuya-kun), a part-time worker at an advertising company. He doesn't keep jobs for long and usually quits before actually making friends or liking his job. This time, though, he makes it through and eventually comes to respect his co-workers and they in return. One worker, his elder, Fujii doesn't like him at first and eventually starts having feelings for him. At the same time, she likes another co-worker but is unsure about that relationship as the other co-worker (Ogiwara) likes someone else but he, too, eventually starts falling for Fujii. And, Watanabe has feelings for Ishida. An all out love-square. LOL!

I must mention about my like of Eita. I first saw him in Nodame Cantabile as Mine Ryutaro. He was the hard rockin' violinist-turned-classical. Chiaki didn't much care for him and feeling were the same in return. Eventually they come to be good friends. Anywaaaaaaaay, oh!, he was in Waterboys Season 1, too! I almost forgot. My bad. So let me post some hotness pics...LOL!