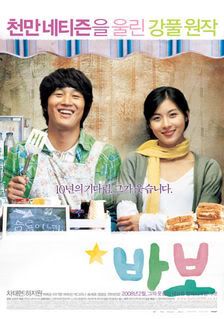 Starring:
Tae-hyun Cha
Ji-won Ha
Supporting Cast
Seol-ri Choi
Hie-sun Park
Grina Park
Jae-ho Song
Mi-seon Jeon
Gi-yeong Lee
Ha-seon Park

Seung-ryong Tae-hyun Cha suffers a fatal accident and at age 27 he has the intelligence of a six-year-old. Now he is pitifully forgetful and has zero sense of hygiene, but is much loved, particularly by his childhood sweetheart Ji-ho Ji-won Ha.

Ji-ho returns home after a long hiatus and finds comfort in looking after Seung-ryong. Despite his disabilities, Seung-ryong manages to make a living for himself and his younger sister by selling the world's tastiest toast on the roadside.


Omg! This was a heartbreaker if there ever was one. I was not expecting the twist at the end. I will say the sub-story had me wondering why it was there.....and then you find out why. Geez!

I was not given the idea that this was going to turn out this way. Just thought it would be this wonderful, romantic comedy with the king of comedy, Cha Tae Hyun. Why, oh why? He was wonderful playing the "fool".

Get the tissues out. That's all I'm saying.

This was a great movie for the whole family. Such a sweet, sweet, sweet story. Please, please, please watch this. It was......well, worth your time, money, and effort

Oh, and his toast he made. Damn, if it didn't make me hungry. That was some pretty awesome looking food he was making. LOL!