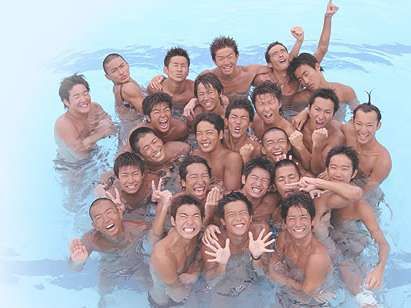 Starring:
Eita as Tanaka Masatoshi
Koide Keisuke as Uehara Kensaku
Hiraoka Yuta as 名嘉尾悟
Emoto Tasuku as Koma Shunichiro
Konishi Manami as Uehara Kyoko
Sakai Ayana as Kakihara Rena
Takizawa Nonami as Buritani Michiru
Ukaji Takashi as Koma Toshimichi
Matsushige Yutaka as 名嘉尾大悟
Masuoka Toru as Uehara Kosaku
Watanabe Misako as Kakihara Haru
Kubo Akira as the head teacher
Mori Yoshiyuki as the principal
Nagumo Yusuke (南雲勇助) as Hotta Zenjiro
Tonesaku Toshihide as Hatori Manabu
Kashii Yu as Hanamura Kyoko
Ishii Tomoya as Ishizuka Futoshi
Tanaka Kei as Yasuda Takashi
Manabe Kaori as Sakuma Megumi
Nakayama Katsumi
Sekiguchi Kimiko
Nakajima Ben
Kanbe Hiroshi
Kumabe Youhei (隈部洋平)
Fuwa Hisashi (不破央)
Hiraizumi Sei
Ishihara Yoshizumi
Yajima Kenichi

Synchro Participants
Pe Jyonmyon (ペ・ジョンミョン)
Sano Yasuomi
Fujii Atsunori (藤井貴規)
Kawagishi Ginji (川岸銀次)
Sugiura Yugo (杉浦由悟)
Tashiro Koji
Tomikawa Kazuhito
Nakano Shintaro (中野真太郎)
Takahashi Mitsuomi
Taketani Atsushi (竹谷敦史)
Yanagibashi Tomonori (柳橋朋典)
Ueda Shinsuke (植田真介)
Kawasaki Ryuichi (川崎龍一)
Tamaari Yoichiro (玉有洋一郎)
Iwato Hidetoshi (岩戸秀年)
Sato Yuki
Kora Kengo
Kan Yuta (菅雄太)
Okada Yuki (岡田雄樹)
Takeuchi Tomoya
Nokubo Naoki (野久保直樹)


Tanaka Masatoshi is having troubles getting into medical school, something he blames on all the time he spent on synchro two years earlier. While on a research trip to a remote southern island of Japan, he is forced into coaching a newly formed three member boys synchro team. Tanaka has to come to terms with his past and begins questioning his future, while the three boy synchro team dream of life off of the island.



Can I be any more in love with Hiraoka Yuta? I'm not joking here. He is soooooo cute. OMG! I was in heaven watching this film. Yuta-kun in really, really, really skimpy speedos. I can't keep my tongue in my mouth. Let's just say the pause button was used tremendously just so I could get really good visuals of him. OMG! Yeah, Yuta-kun is now in my top 5 "I gotta have" list. Why does he have to be so young? I wonder if he likes older women....LOL! Okay, okay, okay....I'll stop dreamin'.



This film, other than eye-poppin'-candy galore, was just another Water Boys film. Same story, different time, with different guys other than Eita. The only difference in this movie was that not only did they have to save the festival but the town as well from land grubbers. Of course, there was a little bit of romance.....poor Yuta-kun didn't have a girl....and great choreography in the water. The ending sequence, to me, was just a little bit more risque than the last few series and movie. But nothing rated "R" about it.



Just a fun movie but nothing to get overly excited about (well, other than Yuta-kun in an overly skimpy outfit).



If I lived in Japan, I would be his #1 stalker fan. LOL! YUTA-KUN!!!!!!!!!!!