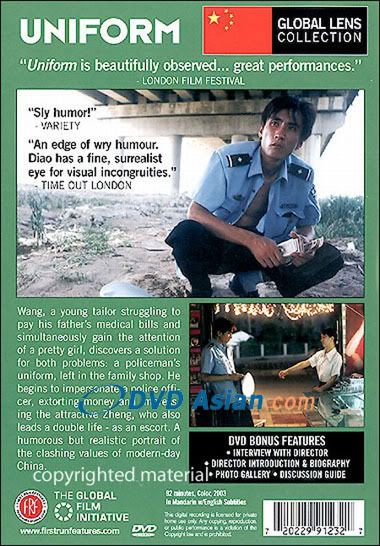 Starring:
Hongli Liang
Hua Qin
Kai Han

Clothes make the man in this compact, Chekovian feature shot on digital and set in present-day small-town China. Laid off when the two local factories merge, Wang Xiaojian (Liang Hongli) is pressed into service at his family's laundromat. When a customer leaves a policeman's shirt behind, Xiaojian starts to impersonate a member of the authorities, discovering that power is a combination of appearance and self-confidence. Along with using the uniform to rip off unsuspecting pseudo-lawbreakers, he allows it to help him score with a shop girl, who wears a mask of her own.

Wang Xiaojian is a young man in deep shit at the time he impulsively decides to start impersonating a cop. His father is running up medical bills. His only income comes from the family's modest laundry and tailoring business. And, because he was in the wrong place when angry workers raided an accounts office, the neighbours think he's a stool-pigeon. He starts off wearing a police shirt uncollected from the laundry. Before long, he's knocked up a complete uniform for himself. Wearing it not only gives him the 'status' to extort bribes but also lends him the confidence to start dating Shasha, who sells pirated CDs. Like him, though, she has a secret other life ...

This movie got rave reviews for it's Indie feel and depiction of mainland China, modern day, with economical problems. I, for one, wasted a good hour and a half of my life. It bored the living hell out of me. The story could have been fascinating but they spent every 9 out of 10 minutes of visual footage (him smoking, standing, watching the girl, sitting, etc.....) So you guessed it...maybe only 9 minutes of talking or action or both. That's it.

This is not for those of us who were wanting a possible romance or something. The synopsis had me thinking this might be a little revealing. Nope. Boring!!!! Even the ending was uneventful. Okay, he was being chased by cops....two footmen and he on a bike. The girl sits on a rock ledge type thing. The end. WTF? Shoot me in the head.............

I could have watched more of Strongest Chil Woo or something that I just started today......damn!