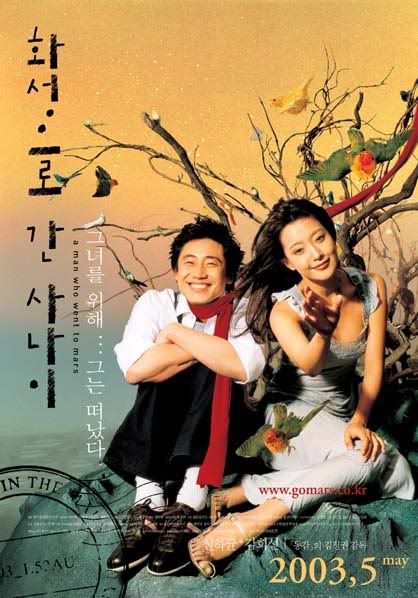 Starring:
Hee-seon Kim - So-hie
Ha-kyun Shin - Seung-jae
So-hyeon Park - Seon-mi
In-kwon Kim - Ho-geol
Jae-yong Lee - Sueng-jae's Father
Geum-ju Lee - Seung-jae's Mother
Deok-hyeon Jo - So-hie's Father
Won-jong Lee
Gyu-su Jeong
Min-jun Kim - Sung-ho

Little Seung-jae stays up all night and writes letters to So-hee, pretending to be her father in Mars. Leaving Seung-jae's innocent heart behind, So-hee leaves for a big city. Both grown up to be adults, Seung-jae is a postman who writes letters to So-hee's grandma - the letters that never came from So-hee. So-hee's heart hardens after hardships in life and she comes back to her hometown and Seung-jae's heart swells up again at seeing her again...

Hmm? The synopsis of the movie drew me in. I thought I hit the jackpot to another good Korean romance. Okay, I prepared myself for the end....because they always go bad.

Well, I didn't disappoint myself. The ending left me dazed and confused. What the hell? Did he kill himself? Did he run away? What the.....??

He had a girl who loved him in his hometown but he didn't love her since his heart is all for So Hee. Okay. I get that. So Hee loves him when they were children but as an adult when crap happens she's by his side for comfort. But is it love? Hell if I know. She hurt him. He still leaves his heart open for her.

I don't know the ending is what really through me off. It was really going good. The story at the beginning was quite unique. It actually started off as a good plot to get the movie spiralling onward. But damn if it didn't piss me off to no end when it finished.

If you watch this, someone tell me your explanation to the end so I don't spend my days trying to beat my head open figuring it out. I don't like loose ends and open endings. The End means...THE END. Not maybe............