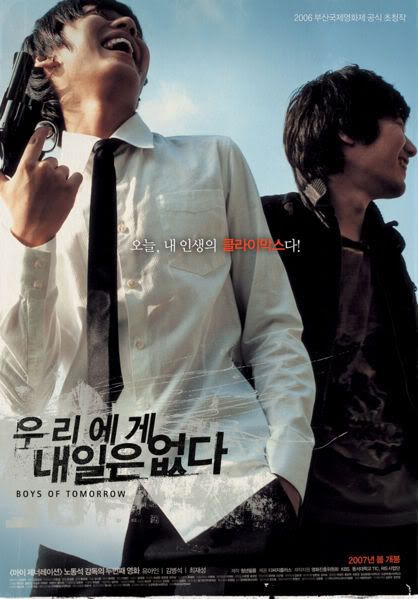 Starring:
Jae-sung Choi - Mr. Kim
Byeong-seok Kim - Ki-su
Dong-ho Lee - Yo-han / Jong-dae
Ah-in Yu - Jong-dae



Kisu, a sincere and reserved young man, lives in a tiny basement studio flat and earns his living as a driver. When he feels suffocated by this world that is too small for his dreams, he concentrates on his real passion in life: drumming.

Although his material living conditions are somewhat precarious and his future does not look that promising, Kisu never loses hope, his watchword being: «There is no road one cannot take». This apparent optimism however hides a deep trauma: he is eaten up by guilt at having been the cause of his brother Jongdae's impotence, following an accident that happened when they were children. In atonement, Kisu has set himself the task of protecting him for life.

As for Jongdae, he dreams of owning a gun, which would make him, feel stronger when faced with the town's petty delinquents. In these oppressive circumstances, Kisu is given his young nephew to look after. An intense friendship develops between the brothers and the child, in which two generations confront one another in order to understand and support one another better.


Boys of Tomorrow paints a picture of suburban boys who believe their future is elsewhere but who have no means by which to achieve their dreams. The childhood scenes combined with those of adult life anchor the film in a hazy temporality, suggesting that one generation's future is strangely similar to those that came before and will come after....



This movie was strange but yet intriguing all the same. I really thought Yu Ah-in nailed his character as well as the guy portraying Ki-su, Kim Byeong-seok. This was totally delving into the rough lives of two teens having to grow up sooner than most should but yet still left with enough innocence to keep them grounded.

A very heart wrenching movie to say the least. The story totally twists out of control and left me crying at the end. I felt it shouldn't or didn't have to happen but seeing this is a Korean movie....they would have to make me feel like crap at the end.

This is an emotionally gripping tale. Some adult situations especially for two young males left to grow up on their own. But damn if I didn't fall in love with them. I'm left as a mother wanting to hug them tight and cry with them...................