Starring:
Andy Lau ... Lok Tok-Wah
Sorimachi Takashi ... O
Simon Yam ... Albert Lee
Kelly Lin ... Chin

For many years professional assassin O has resided in an isolated world of killing and loneliness, which only becomes worse after the death of his love, Nancy. But his life begins to change once he meets the innocent Chin. Chin, hired to clean O's apartment. However, soon the flamboyent and reckless Tok enters Chin's life with a mission--to unveil O's identity and usurp his place as the number one sharp-shooting assassin in the game.

Andy Lau stars as Tok, a low-rent hitman who kills with theatrical flamboyance and acts like a rock star. His goal is to be the "Gold Medallist of Assassins," a self-proclaimed title which he, and everyone else in Asia, believes belongs to the silent assassin O (Takashi Sorimachi). In contrast to Tok, O is quiet and efficient. He exists only to kill and then fade away, as if he doesn't exist. However, Tok won't let O kill quietly. Through a series of escalating encounters, the two find themselves both allies and enemies. The goal of all of this is one fateful showdown where Tok can claim the title - or O can retain it.

I totally loved this movie! It KICKS ASS! This kept me on my toes. Takashi-san never fails me in his acting abilities. Never! He was freakin' amazing! He's an assassin in the movie but damn he couldn't have been hotter. Whew! This was not a lovey-dovey, moralistic story what-so-ever. Not for kids who play with guns. It's a bit bloody with adult situations. Totally different norm of movies but had to watch it because of that certain Japanese man who makes my heart go "thump!"

More pics of Takashi-san!!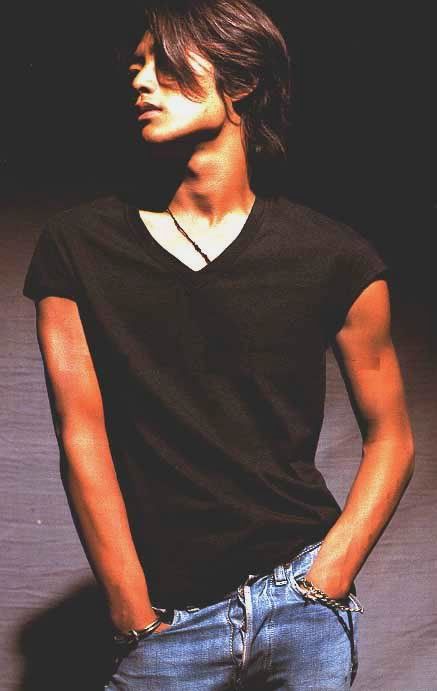 *wiping the drool falling from my chin*