(2005)
Mika Nakashima ... Nana Osaki
Aoi Miyazaki ... Nana Komatsu
Hiroki Narimiya ... Nobuo Terashima
Ken'ichi Matsuyama ... Shin
Saeko ... Sachiko
Yuna Ito ... Reira Serizawa
Momosuke Mizutani ... Naoki
Anna Nose ... Jyunko
Takehisa Takayama ... Kyosuke
Tomoki Maruyama ... Yasu
Tetsuji Tamayama ... Takumi
Ryuhei Matsuda ... Ren Honjou
Yuta Hiraoka ... Shoji Endo

Nana Osaki is a punk singer who wants to debut with her band as soon as possible to leave her ex-boyfriend, Ren Honjo, behind. Nana was the lead vocalist in their old band with Ren, and they lived together as lovers. When Ren is offered a chance to debut in Tokyo as a replacement member of the popular band Trapnest (T-Nest for short), Nana chooses to cultivate her own band, Black Stones (BlaSt for short) instead.

Nana Komatsu, the other Nana, is called Hachi (after Hachikō) as she has weak mental characteristics that resemble a puppy. With a habit of falling in love at first sight, Hachi has always depended on other people to help her. When her friends and then boyfriend leave for Tokyo, she decides to join them a year later after having saved enough money.

Nana and Hachi meet in a train by chance, both on their way to Tokyo. After a string of coincidences, they come to live together in an apartment numbered 707. Despite having contrasting characters and ideals, the Nanas like and respect each other.

While the Black Stones begin to gain popularity at live gigs, other issues need resolving, especially in the areas of romance. The story of Nana revolves heavily on the romance and relationships of the two characters as one seeks fame and recognition while the other seeks love and happiness.

I loved, loved, loved this movie. Matsuda Ryuhei was perfect as Ren. Nakashima Mika was perfect (and looked just like the manga version) as Nana. I loved the complexity and the sexiness between them both. Such a serious aspect for youth at that age. You could actually feel the tumultuous relationship between the two. Ahh! The train scene had me bawling like a big baby.

Miyazaki Aoi was the pefect assignment as the character for Hachiko. There was actually a time I wanted to beat the living daylights out of Shoji for treating Hachiko the way he did. Miyazaki's portrayal of Hachi was spot on while showing her quirky, naive side. That "oh so" innocent face was just perfect!

This was an A+ movie all the way.



(2006)
Mika Nakashima ... Nana Osaki
Yui Ichikawa ... Nana Komatsu
Kanata Hongo ... Shin
Yuna Ito ... Reira
Nobuo Kyo ... Ren
Tomoki Maruyama ... Yasu
Momosuke Mizutani ... Naoki
Hiroki Narimiya ... Nobu
Anna Nose ... Junko Saotome
Takehisa Takayama ... Kyosuke
Tetsuji Tamayama ... Takumi
Seminosuke Murasugi
Tetsuhiro Ikeda
Yasuhi Nakamura

Taking place shortly after the end of the first film, Nana 2 focuses more on Komatsu Nana (Hachi/Hachiko)and her love life. Romance develops between Hachi and TRAPNEST's bassist Takumi as well as with the Black Stones' guitarist Nobu. Meanwhile, Nana works hard for her band while trying to find happiness. Both girls struggle through life, and try to keep their friendship from falling apart. More information on the story at Nana.

The flipside.....of NANA 2 sucked. I was looking forward to the relationship scenario of Hachiko with Takumi. Well, first of all......Matsuda, Matsuyama and Miyazaki.......didn't reprise their roles. That was a definite minus since their parts were perfect for them. This movie went so downhill it's not even funny. Miyazaki's replacement was lost in translation. I love Kanata Hongo as Ryoma in Prince of Tennis but as a rock-n-roll bassist.....ugh! He was not even close to being right for the part. He was too young, too innocent, too something. Nobuo Kyo was believable as Ren but Matsuda played it better. The only good thing about this movie was Tamayama Tetsuji. I love this man and his part as Takumi couldn't have been played any better.

This movie isn't really worth watching other than drooling over TT. If you are a TT fan...go for it!!!

Tamayama Tetsuji



Matsuyama Ken'ichi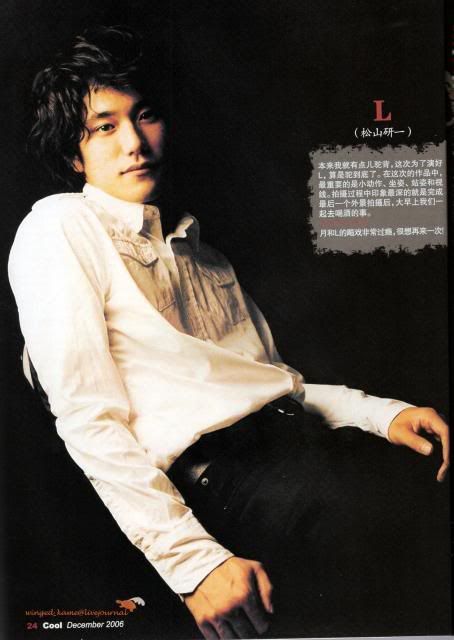 Matsuda Ryuhei