Starring:
Satoshi Tsumabuki - Kenichi Yazaki
Masanobu Ando - Tadashi "Adama" Yamada
Yuta Kanai - Manabu Iwase
Asami Mizukawa - Mie Nagayama
Rina Ohta - Kazuko "Lady Jane" Matsui
Yoko Mitsuya - Yumi Sato
Hirofumi Arai - Bancho
Hideko Hara - Kenichi's mother
Ittoku Kishibe - Matsunaga sensei
Jun Kunimura - Sasaki
Kyohei Shibata - Kenichi's father
Noriko Eguchi
Tasuku Emoto - Tatsuo Masugaki
Gen Hoshino - Yuzuru Nakamura
Haruka Igawa - Alpharomeo girl
Ryo Kase - Ryo Otaki
Rinko Kikuchi
Kenta Kiritani - Yuji Shirogushi
Fumiyo Kohinata - Yoshioka sensei
Hidekazu Mashima
Rie Minemura - Fumiko sensei
Yoko Mitsuya
Akifumi Miura - Goro Narushima
Yosuke Miyauchi - Shirai
Yoshiyuki Morishita - Adachi
Jun Murakami - Yakuza
Shunsuke Sawada - Ezaki
Toshiyuki Seyama - Scribe
Kyusaku Shimada - Aihara sensei
Suzunosuke
Kosuke Toyohara - Kawasaki sensei
Yoshiaki Yoza - Kiyoshi Fukushima

Sasebo, Nagasaki, Japan, 1969: inspired by the iconoclastic example of Dylan, Kerouac, Godard and Che, a band of mildly disaffected teenagers led by the smilingly charismatic Ken (Tsumabuki Satoshi) decide to shake up "the establishment" - i.e. their repressive school and the nearby US military installation. A series of anarchic pranks meets with varying levels of success, until Ken and company focus their energies on mounting a multimedia 'happening' to combine music, film and theatre. Complications ensue.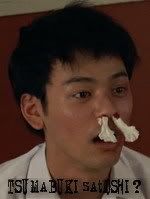 This was an all out awesome movie. The version I watched had a few minor subbing boo-boo's (ie....incorrect English grammar) but I got the gist of it.

This was a great coming of age movie set during 1969. The comedy was hilarious. Teenagers, males, who thought of getting their first lay, becoming rock stars, making a name for themselves and all they had to go through to get there. LOL! This was a genius of a movie. Satoshi-san was a riot as Ken...oh, the first 30 minutes of the movie had me laughing so hard. Ken, loves to tell stories and one of them was about a certain particular body part. Then there was when the 3rd year student took over the school and one of the students played a naugty song over the loud speaker about the same particular body part. What a hoot!

Loved, loved, loved this!!

Tsumabuki Satoshi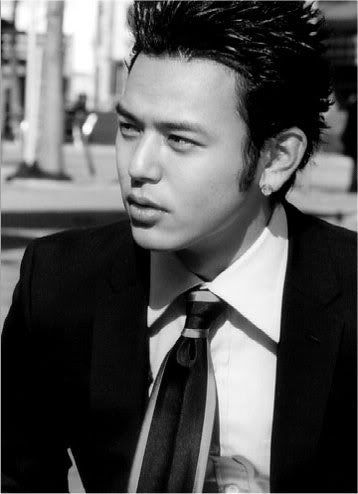 Masanobu Ando