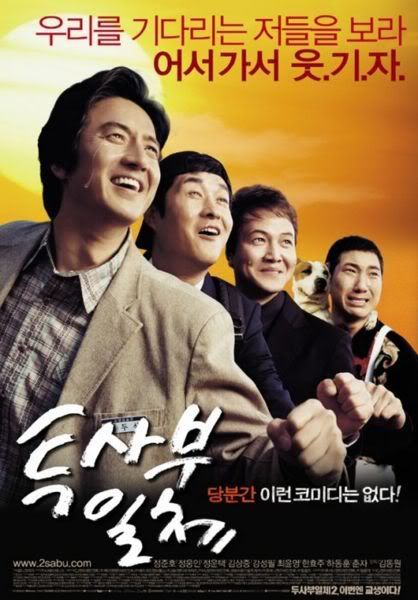 Starring:
Jun-ho Jeong ... Gye Do-shik
Woong-in Jeong ... Kim Sang-do
Un-taek Jeong ... Dae Ka-ri
Hyo-ju Han
Sang-jung Kim
Tae-ran Lee

This time round, our hero Doo Sik (Jung Jun Ho) is a senior at college, where he is studying to become a teacher. During the day he works hard teaching morality and ethics, but at night continues to work as a gangster. He gets a placement at the local high school, working as a student teacher, but then trouble rises its ugly head. Always determined to keep him studying hard, Doo Sik's boss has also returned to high school to complete his own education. Now Doo Sik has to face his boss at school as well as at night!

I have to say this movie was a little better than the first which in reality most movies with continuations usually suck. This one, at first, started out quite stupid and boring and didn't make much sense but then finally once he started working at school......it was all uphill.

This one wasn't as funny, to me, at the first one. More serious dealing with trust and molestation from teachers. This one sort of made me mad. Not at the movie, but in general, how people with authority take advantage of children and abuse those rights. Just made me sick. I will say that once Do-sik beat the crap out of the "source" tears formed and from that point on it was a poignant movie. Okay, and there was one point at the end that just had me smile with tears. Very good movie. Very, very, very good.