"This is not a play. I will decide on the plot.

If, just like Shakespeare said, life is but a walking shadow, I will happily be a shadow until I die. Until I devour all the white swindlers (people who swindle for monetary gain) in this world, the curtain will not fall on my show.

My name is........Kurosaki.

I am a walking shadow."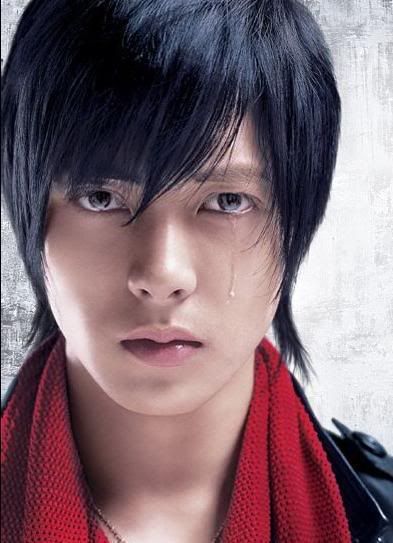 Starring:
Tomohisa Yamashita - Kurosaki / 'Kurosagi'
Maki Horikita
Sho Aikawa
Mao Daichi
Yui Ichikawa
Naoko Iijima
Renji Ishibashi
Koji Kato
Shiro Kishibe
Yukiya Kitamura
Toru Minegishi
Kiyotaka Nishimura
Kaoru Okunuki
Tsurube Shofukutei
Kaoru Sugita
Naoto Takenaka
Ryosei Tayama
Tsutomu Yamazaki

Eiga:Kurosagi is based on a manga that sold over 300,000 sets and went on to become a popular television drama. In the movie, Tomohisa Yamashita plays a swindler who cooly decieves other swindlers who have evil intentions. The swindlers who decieve others with words are the "shirosagi". The swindlers who play with people's feelings are "akasagi". And the one who only aims to take large sums of money from shirosagi and akasagi is Kurosaki aka Kurosagi.



I was NOT impressed with this movie. It was alright but not great. I'm being told the drama series was much better. The movie made no sense. And what the heck was Horikita Maki's role in the movie. She wasn't an antagonis, a protagonist, a love, a friend. I think she was just there was name's sake since she is a popular Japanese actress. Her character made no benefit to the storyline other than she bumped into Kurosaki all the dang time. What gives? She was a waste of writer's ink, space and time. Not her herself but the character she played.

*Okay, Maki is a big deal in the drama series. They downplayed her role in the movie which was a stupid move on the producer and director's part!*

The trailer sounds all good. I just can't believe how disappointing this movie was. I'm such a Yamapi fan. Why did they screw up such a good character and drama with this disorganized piece of junk....I mean, movie?
Yamashita Tomohisa