AKA:
Inisharu Dī
Kashiramoji Dī
Tau man ji D
Initial D - Drift Racer



Starring:
Shawn Yue - Takeshi Nakazato
Edison Chen - Ryousuke Takahashi
Jay Chou - Takumi Fujiwara
Supporting Cast:
Anthony Wong Chau-Sang - Bunta 'Tofuman' Fujiwara
Chapman To - Itsuki Tachibana
Tsuyoshi Abe - Kenji
Anne Suzuki - Natsuki Mogi
Kenny Bee - Yuuichi 'Gasman' Tachibana
Liu Keng Hung - Seiji Iwaki
Jordan Chan - Kyouichi Sudou
Kiyohiko Ueki - Iketani
Kazuo Yashiro - SpeedStars Member
Miki Kuroiwa - Natsuki Mogi's Classmate
Megumi Seitone - Natsuki Mogi's Classmate
Sayaka Takizawa - Natsuki Mogi's Classmate
Tomohiro Waki

Drifting is the art of getting cars around corners as quickly as possible through controlled skidding. Mount Akina's tortuous hairpin bends and perilous drops make it a formidable test for even the professional street racers, but the fastest driver of them all is Takumi (Taiwanese pop idol Jay Chou) who has been delivering tofu for his father down that route every night since he was 13. Street-racing gangs hear of a "Racing God" and turn up to challenge him, but he only has eyes for his worthless (and underwritten) girlfriend - until his friends and his alcoholic father can trigger his competitive streak.





This movie rocked! It was awesome! My only complaint was that the main characters are obviously Chinese but are given Japanese names. Suzuki Anne is Japanese and her lines were dubbed!!!! I'm not a fan of dubbing. It drives me nuts!

I 'bout freaked out when I saw Waki Tomohiro. That's Kuma from Gokusen, Gokusen2, and Gokusen3! He has no lines but he is obviously there as a team member. Totally freaked out when I saw him. LOL!

Then, of course, we have Jay Chou, Edison Chen, and my new favorite love....Shawn Yue! Weeeee! This movie was fast, furious, and totally my kind of ride. Wow!

I have to say the end of the movie was perfect. Mogi deserved everything she got. Even though she got what she deserved, I couldn't help but feel like crap for Takumi. He is a really nice guy and even though Mogi was a nice girl....you reap what you sew. The end was great! I was not against something like that...even though I am extremely for "happy" endings. In a way, this one was............

Shawn Yue



Edison Chen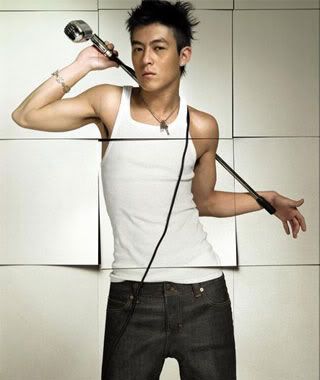 I don't condone a single thing Edison Chen has done. I just googled his name and about threw up chunks. Yeah, he's a gorgeous guy....but well, he needs to learn to keep a certain thing in his pants. Eeeergh! Or atleast not put it on his hard drive *yes pun was intended...lol*

Jay Chou