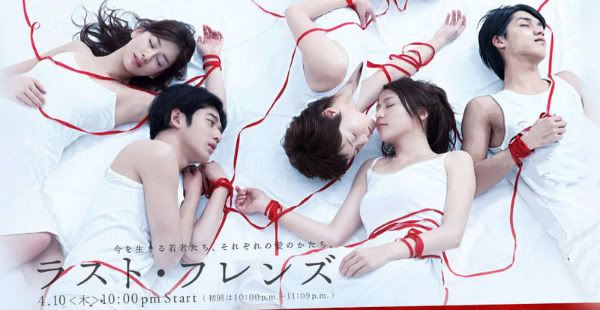 Starring:
Eita - Takeru Mizushima
Asami Mizukawa - Eri Takigawa
Masami Nagasawa - Michiru Aida
Ryo Nishikido - Sosuke Oikawa
Juri Ueno - Ruka Kishimoto
Aki Nishihara

Last Friends deals with issues such as domestic violence, sexless couples, and other problems that people suffer today. The youths in this drama are all suffering from different issues. They come to live together in a share house.

Hair stylist assistant Michiru Aida comes across Ruka Kishimoto, her best friend in high school. Ruka is living in a share house with her friend Eri, and is aiming to become a motocross racer. Ruka invites Michiru to live with her in the share house, but Michiru declines because she has plans to start living with her boyfriend Sosuke Oikawa, who works at the child welfare division at the ward office.

The same day at the same store, hair & make-up artist Takeru Mizushima bumps into Ruka and picks up a cup that she dropped and broke. Takeru chases after Ruka to return the cup, but she mistakenly thinks that he's trying to pick her up. Ruka yells at Takeru and walks away.

Soon after this, Michiru moves in with Sosuke. She is filled with happiness when Sosuke promises he'll never leave her side, whatever happens. But one morning, Michiru wakes up to find Sosuke looking at her cell phone checking her text messages...



Okay, okay, okay. I finally broke down to watch this. Why, oh why, did I wait so damn long? I think this is the best Japanese drama yet. This drama is like no other. The love-quadrangle is fascinating in its own right. I really don't know who to route for.

I have to say it's hard to watch Nishikido Ryo play the villainous boyfriend, Sousuke. We've seen him play the sweet, innocent boyfriends in the past. So to see this is really disheartening but yet we see the realm of acting that Ryo-kun is able to portray. He has really grown up. *sigh*

Eita, well, I love him like a rabid-dog in heat. Everytime I see him, I melt. He has already established himself as an A-class actor. This time around his character, Takeru, has been sexually abused by a family member and he has a hard time of accepting physical affection of any kind. Some start to believe he is a gay male because he can't be around women physically. (Oh why did the fashion department dress him the way they did. They made him look too "girly". Ah well, he's still a hottie!)

Juri-chan, our Nodame Cantabile sweetheart, is not even relatively close to this character. Ruka is a sweetheart in her own right but in a different fashion. She plays a masculine female who is in love with her best friend. Her best friend, Michiru, is the woman being abused by her boyfriend Sousuke (Ryo-kun).

Two other characters fit in to the maze of friendships but are more co-stars that keep the dialogue going. The first episode was a slow go but once the show established itself...whoa!...I was hooked like catfish bait. So far there are only 8 English subbed episodes with only 16 scheduled episodes to be shown...so we are halfway there. I can't wait for the next episode.

Eita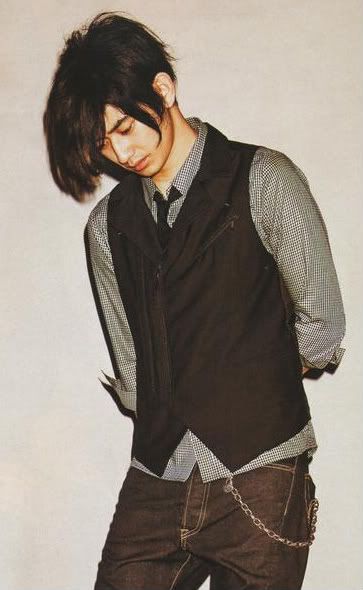 This pic is from Nodame Cantabile...Mine Ryutaro!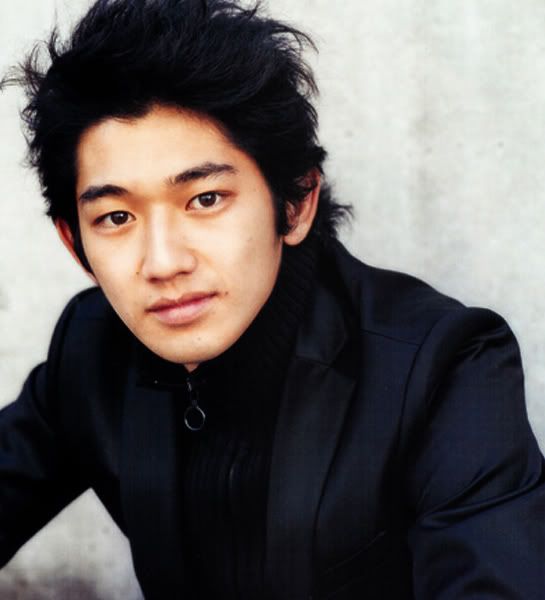 Nishikido Ryo