Starring:
Ha-Neul Kim - Da-jin
Gye-sang Yun - Jae-young
Supporting
Seong-rok Shin - Jin-seong Lee (illustrator)
Hyeon-jeon Cha - Ji-eun (Jae-young's co-worker)
Dong-won Seo - Min-jae (doctor)
Ji-young Ok - Mi-yeong
Dae-yeon Lee - Da-jin's doctor
Yun-min Jeong - Sang-cheol Kwon (Da-jin's rival co-worker)
Sang-Yeop Lee - Yun-seok
Hye-ok Kim - Da-jin's mom
Hyang-gi Ko

Da-jin and Jae-yeong are very much in love and have been for the past six years. Everything about their relationship seems perfect and both of these young lovers have developed blossoming careers in this supportive environment. But, can the relationship continue to survive without change? And if it changes, will it be for the better?


At first, I thought to myself..."Wow, I found another romantic comedy!" Yeah, right. It was funny, it had some cute moments, but it (to me) was more depressing than anything. Only having dated 6 years, they start to get bored with their life as a couple. This I can totally understand having been there, done that. But I've never once thought of cheating or crossing the "faithful" line, so to speak. This movie tested the moralities of a relationship. How far would you go? I think I was more upset with the Jae-young's part. He crossed that line and it upset me beyond belief.

There was one part at the end of the movie that I wish I could quote that Da-jin said. So I'll try my best to repeat it. Relationships are like broken bones, once broken the bones will stronger than they once were before...or something like that. I have to believe that was the meaning of this movie.

Yoon Kye Sang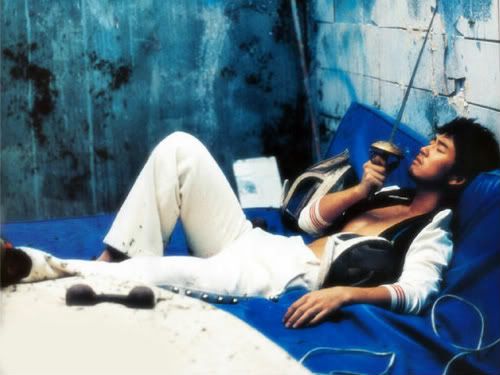 Umm...I didn't know he was the former singer of the now defunct Korean boy band, GOD. I just learned something new.........