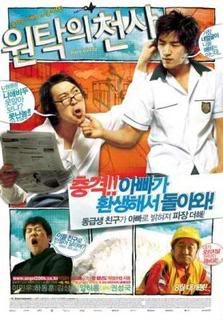 Starring:
Min-woo Lee - Kang Won-tak
Dong-hoon Ha - Ha Dong-hoon
Ha-ryong Lim - Kang Young-kyu
Sang-jung Kim - Jang Suk-jo
Kil-Kang Ahn - the "Angel"
Si-a Jeong
Bo-yeon Kim - Won-tak's mother
Han-wi Lee
Jeong-min Son
Hyeon-a Kim
Dal-hwan Jo

Won-Tak's dad, an old-time con-man, was suddenly killed during a freak accident in the prison, just one day before his release. Having waited for so many years to be reconciled with his dad and to start a new life together, Won-Tak felt betrayed and vowed to ruin his own life and bring shame to his parents. However, unknown to him, Wong-Tak's dad has managed to strike a bargain with an angel to return to the living world as Won-Tak's new bestfriend...


This movie was a riot! I really enjoyed this.

If given the chance to comeback to make amends with my loved ones, I couldn't do it. Or maybe?

Won-tak's father was so outdated because he had spent most of his life in prison. So imagine coming back almost 20 years later to "see" your son and everything is almost computerized, economized, self-serve. Oh this was a hoot.

But like any good movie, there would have to be a sad part. And dang it, I pickin' them good. Of course, Won-tak's father eventually has to go back and make his way to heaven. The ending was glorious! I was sobbing yet again. And this time it wasn't just for Won-tak and his father. The "Angel" was once a human before going to Heaven. He sees this girl and we later come to find out that it's his daughter. Tear jerker!!!! Beware!

And on a happy note, I was so, so, so, so happy to see Lee Min Woo! I love Shinhwa and now one of their biggest fans. I've fallen for Jun Jin and to see Lee Min Woo....*sigh*...I think I'm in Heaven!

Lee Min Woo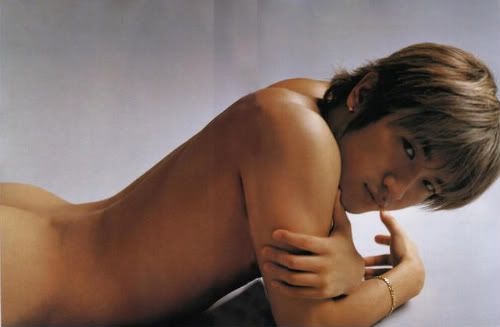 Holy Moly! Enchilada! Crap! Mary, Mother of God! What's it with Asian guys and taking their clothes off. I don't mind one bit.......LOL!