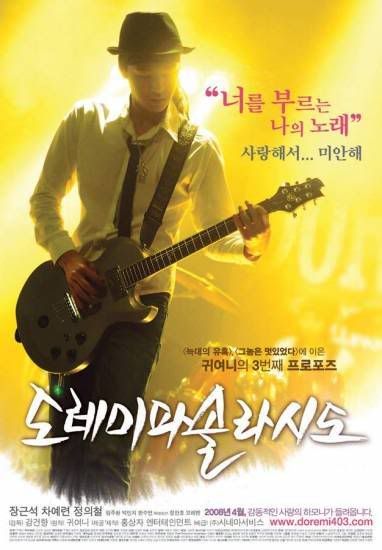 Starring:
Ye-ryeon Cha - Jeong-won Yun
Geun-seok Jang - Eun-kyu Shin
Ui-cheol Jeong - Hee-won Kang

Supporting Cast
Ju-hwan Im - Jae-kwang Yun (Jeong-won's brother)
Su-yeon Han - Dong-hee
Tae-yun Han - So-yeon Shin (Eun-kyu's sister)
Eun Lee - Yeon-ah (Jeong-won's friend)
Min-ji Park - Na-ri Shin (keyboardist)
Hye-ok Kim
Hyo-chun Lee

In "Doremifasoladido" high schooler Jung-won (Ye-ryeon Cha) works at an amusement park, dressed up as Dragon cartoon character. Then one day, a guy standing among his friends twists her dragon mask around, causing her to fall flat on her back. Shortly afterwards, she locates the guy still laughing among his friends about what just transpired. Jung-won then proceeds to pour a drink over his head.

A few days later Jung-won is horsing around with her brother on the top floor of their home. They notice that a new family moved into the house next to theirs. Jung-won then gets a sickening feeling as she notices the young guy in their family is the same guy that twisted her dragon mask around in the amusement park. His name is Eun-kyu (Geun-seok Jang), a popular high school student that fronts the band "Doremifasoladido."

The next evening, Jung-won attempts to sneak out of her house when Eun-kyo notices her from his house. He calls out to Jung-won and threatens to tell her parents unless she agrees to walk him from his high school to his practice studio for at least one week. Jung-won, eager to get to work and not have her parents find out, agrees to the deal.

When Jung-won accompanies Eun-kyo to his band's practice session, she then notices an old familiar face. He's Hee-won (Ui-cheol Jeong), the band's bassist and a former friend of Jung-won. They were actually close childhood friends for 10 years, until Jung-won unknowingly reported Hee-won's father to the police. That incident ruined Hee-won's family and he has never forgiven her since. Now, Hee-won attempts to drive a wedge between Jung-won and Eun-kyu, as the three friends and former friends encounter stormy times ahead.~Lunapark6



I've read and read and read reviews about this movie. "It's bad," "It's horrible," and "It's not worth your time." Puhhhhhhhh-lease! I loved it. Okay, love is a harsh word but it wasn't terrible. It was cute. Okay, I should have cried at the end but all my tears were spilled for Koizora. I don't have any left. *I'm still teary-eyed over that movie* Anyway.........it was a sweet comedy/romance/teen-angst movie. Just to let those know...there IS a happy ending. Hey and you have two cutie-patooties in the lead roles with the exception that one was a class-A jerk. But hey, the eye candy factor was high. LOL!

I will say that I would never break up with my boyfriend for an ex- if he threatened me that he would commit suicide. That's when I'd call 911 and let the authorities know there was a whack job on the roof a building. *yeah, that is a scene from the movie...not the 911 part. Hehe!*

Well here are some hottie pics since I've never had them posted before. Enjoy!

Jang Geun Seok


He looks just like a young version of.......RAIN!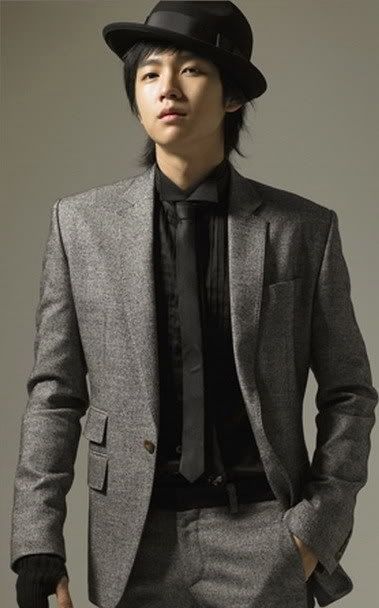 *OMG! We share the same freakin' birthday! Hello my fellow cuddly Leo, you!*

Jeong Ui Cheol