Starring:
Takeshi Kitano - Kitano (as Beat Takeshi)
Shin Kusaka - Yoshio Akamatsu - Boys #1
Ren Matsuzawa - Keita Iijima - Boys #2
Gouki Nishimura - Tatsumichi Ohki - Boys #3
Shigehiro Yamaguchi - Toshimori Oda - Boys #4
Taro Yamamoto - Shougo Kawada - Boys #5
Masanobu Ando - Kazuo Kiriyama - Boys #6
Yukihiro Kotani - Yoshitoki Kuninobu - Boys #7
Osamu Ohnishi - Youji Kuramoto - Boys #8
Yuuki Masuda - Hiroshi Kuronaga - Boys #9
Shirou Gou - Ryuhei Sasagawa - Boys #10
Sousuke Takaoka - Hiroki Sugimura - Boys #11
Yutaka Shimada - Yutaka Seto - Boys #12
Junichi Naitou - Yuichiro Takiguchi - Boys #13
Shigeki Hirokawa - Shou Tsukioka - Boys #14
Tatsuya Fujiwara - Shuya Nanahara - Boys #15
Hirohito Honda - Kazushi Niida - Boys #16
Yousuke Shibata - Mitsuru Numai - Boys #17
Satoshi Yokomichi - Tadakatsu Hatagami - Boys #18
Takashi Tsukamoto - Shinji Mimura - Boys #19
Ryou Nitta - Kyouichi Motobuchi - Boys #20
Yasuomi Sano - Kazuhiko Yamamoto - Boys #21
Tsuyako Kinoshita - Mizuho Inada - Girls #1
Eri Ishikawa - Yukie Utsumi - Girls #2
Sayaka Ikeda - Megumi Etou - Girls #3
Tomomi Shimaki - Sakura Ogawa - Girls #4
Tamaki Mihara - Izumi Kanai - Girls #5
Yukari Kanasawa - Yukiko Kitano - Girls #6
Misao Kato - Yumiko Kusaka - Girls #7
Takayo Mimura - Kayoko Kotohiki - Girls #8
Hitomi Hyuga - Yuko Sakaki - Girls #9
Anna Nagata - Hirono Shimizu - Girls #10
Kou Shibasaki - Mitsuko Souma - Girls #11
Satomi Ishii - Haruka Tanizawa - Girls #12
Chiaki Kuriyama - Takako Chigusa - Girls #13
Haruka Nomiyama - Mayumi Tendou - Girls #14
Aki Maeda - Noriko Nakagawa - Girls #15
Satomi Hanamura - Yuka Nakagawa - Girls #16
Sayaka Kamiya - Satomi Noda - Girls #17
Aki Inoue - Fumiyo Fujiyoshi - Girls #18
Asami Kanai - Chisato Matsui - Girls #19
Mai Sekiguchi - Kaori Minami - Girls #20
Takako Baba - Yoshimi Yahagi - Girls #21
Ai Iwamura - Girl - won last BR
Ai Maeda - Shiori, Kitano's daughter (voice)
Minami - Keiko
Michiko Yamamura - Reporter
Gou Ryugawa - Lieutenant Anjo
Takashi Taniguchi - Nanahara's father
Ken Nakaide - Mr. Hayashida - Home-room teacher of Class 3-B
Kanako Fukaura - Bus conductress (Basugaido)
Yuko Miyamura - Training Video Girl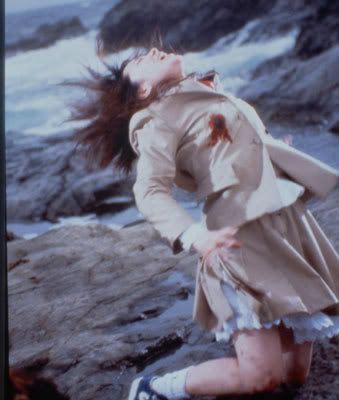 At the dawn of the new millennium, Japan is in a state of collapse. Unemployment is endemic and school violence is out of control. The beleaguered government retaliates with Battle Royale... Each year, a randomly chosen class is pitted against itself on an abandoned island in a cruel game of survival. The rules of the game are simple: 1) it lasts three days; 2) Each player starts with food, water and a "weapon"; 3) if more than one player survives, everyone dies (by detonating special electronic necklaces; 4) there is no escape. Takeshi Kitano plays a downtrodden teacher turned Battle Royale operation leader. As the game progresses, terror and panic challenge the students' fragile trust in each other. But despite the game's brutality, the adolescent players remain obsessed with their crushes, their petty grudges - and their dreams...


I finally broke down and watched this. I'm not a girl who likes gore, horror, or intense thrillers. But everyone, and I mean everyone, keeps telling me that this was an awesome movie. Soooooooo...............................
Yeah, I watched it. Okay, Nobu's death was too much. Then there was the guy who's head was cut off and used to encase a hand grenade. But from other than those two instances....it was reeeeeeeeaaaaaaaaally good. I was so happy to see Takashi-san, Ando-san and Taro-san. I love those guys! Tatsuya-san, I was never really a great fan of his because his character in Death Note just wasn't right. From that point on I've avoided his movies and/or dramas. Okay, my bad. He did a really good job in this one. Maybe Kira just wasn't the right character for him in Death Note. Or I could blame the writer's in that one because they totally annihilated that anime/manga movie. But I digress.....Death Note for another time.
I just couldn't imagine having to kill my boyfriend or friends. That's just insane. The part where the girls in the lighthouse "lost it" was very, unimaginably believable. And very sad. The trust was walking a thin line.....and "boom" it was lost in a second.
This was a very good movie all around. Scary, horrible, horrific, and just terribly sad.
Masanobu Ando





Tsukamoto Takashi
Fujiwara Tatsuya