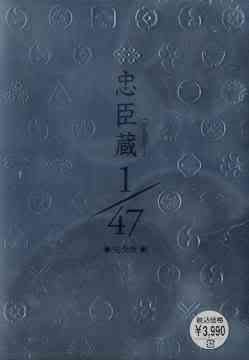 Starring:
Kimura Takuya as Hirobe Yasubei
Okada Junichi as Oishi Chikara
Fukatsu Eri as Horibe Hori
Sato Koichi as Oishi Kuranosuke
Matsuyuki Yasuko as Fujimi
Tsumabuki Satoshi as Takada Gunbe
Tsutsumi Shinichi as Asano Takumi-no-kami Nagonori
Matsu Takako as Aguri (Yozeii)
Kobayashi Satomi as Oishi Riku
Ohsugi Ren as Yanagisawa Yoshiyasu
Watabiki Katsuhiko as Kobayashi Heihachiro
Kaneda Akio as Ono Kurobe
Kamiyama Shigeru as Kanno Rokurozaemon
Ikeuchi Hiroyuki as Shimizu Ichigaku
Atarashi Katsutoshi as Hara Soemon
Harada Ryuji as Kataoka Gengoemon
Arai Yasutoshi as Maebara Isuke
Kawabata Ryuta as Takebayashi Tadashichi
Sugiura Naoki as Horibe Yahe
Tsugawa Masahiko as Kira Kozukenosuke
Washio Machiko


A story based on the popular kabuki drama. In 1701, Asano Naganori, attacked Lord Kira Kozenosuke with his sword in the Edo Castle after Lord Kira had taunted the young, usually mild mannered Asano. Although Lord Kira's wound was superficial, Asano was ordered by the Shogun to commit seppuku - suicide. Lord Kira, an important retainer of the imperial household, did not receive any reprimand. Asano's land and all the possessions of his family were confiscated.
Thus all this former retainers became Ronin (samurais with no lord).


In 1702, the 46 Ako Ronin (one was already dead) lead by Oishi Kuranosuke (Asano's chief adviser) came back to revenge on their fallen lord against Lord Kira and were victorious.

The 46 Ronin were ordered to commit seppuku later by the Tokugawa Shogunate.
~ http://www.nt2099.com/DORAMA/database.html

I didn't realize how old this was. Then as I'm publishing it.....2001! I thought it was recent since crunchyroll just put it out. I don't know why I thought that. Ehhhhh.

This was a really, really great film. It should be.....it's got Kimura Takuya. (I forgot to add him to my list. *blushes*)

This drama was a wee bit confusing. I should say a little bit rushed. Yasubei and Hori's story was almost non-existent. I understand this was about the Ronin's but if they were going to go all out about his betrothal and marriage to Hori....they could have atleast shown a little bit more about them. It was hard to except he loved her when he treated her like she was his servant only. I couldn't get that. It was obvious she loved him. And I know he was a samurai and lived like one but......ehhh, I don't know. Something was missing there.
I was disheartening to realize the conclusion of the story. You come to love the ronin and Yasubei and to know that their fate was to do harakiri....ehhhh. Whyyyyyyyy?
I love the early years of Takuya-san. He was such a cutey!!! And we all know his acting is superb!!!