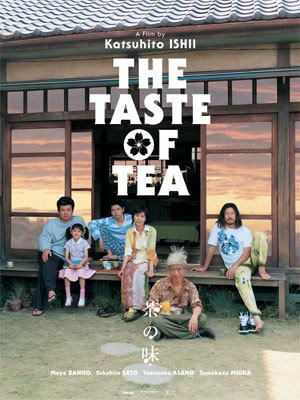 Starring:
Maya Banno - Sachiko Haruno - daughter
Takahiro Sato - Hajime Haruno - son
Tadanobu Asano - Ayano Haruno - uncle
Satomi Tezuka - Yoshiko Haruno - mother
Tatsuya Gashuin - Akira Todoroki - grandpa
Tomoko Nakajima - Akira Terako
Ikki Todoroki - Himself
Tomokazu Miura - Nobuo Haruno - father
Anna Tsuchiya - Aoi Suzuishi
Saki Aibu - Hotaru
Hideaki Anno - Kasugabe
Keisuke Horibe - Man in Noodle Shop
Ryo Kase - Rokutaro Hamadayama
Rinko Kikuchi
Kirin Kin - Grandma
Tsuyoshi Kusanagi - Projectionist
Ken'ichi Matsuyama - Young Man in Red T-Shirt
Shunichiro Miki
Kenji Mizuhashi - Maki Hoshino
Yoshiyuki Morishita
Kaiji Moriyama - Dancer
Yuka Nomura - Woman in Noodle Shop
Yoshinori Okada - Omiya
Machiko Ono
Daigaku Sekine - Detective
Kotaro Shiga
Issei Takahashi - Chairman of Go Club
Shinji Takeda - CM Director
Seiji Tanaka
Yoji Tanaka
Susumu Terajima - Tattooed Man
Emi Wakui - Narrator (voice)

Eight-year old Sachiko (Maya Banno) is bothered at inopportune moments by her own giant-sized double, who hangs around sitting on buildings staring at her, while her older brother Hajime (Takahiro Sato) privately wrestles with raging hormones and a love-struck crush on a pretty new classmate (Anna Tsuchiya from Kamikaze Girls).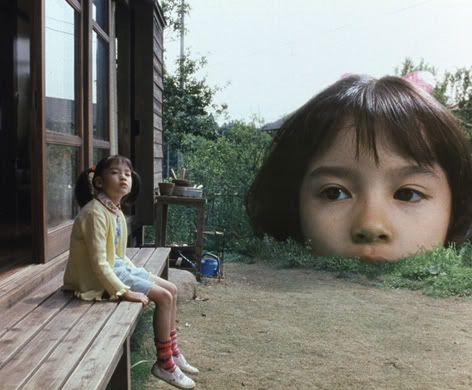 The grown-ups have their difficulties too: the mother (Satomi Tezuka) struggles to come out of retirement as an animator, and the father (Tomokazu Miura) is a professional hypnotist who occasionally plies his trade on his own family with often-funny results. An uncle (Tadanobu Asano from Ichi the Killer) drops in for a visit, but he also has a hidden agenda as he comes to terms with a romance that ended years ago.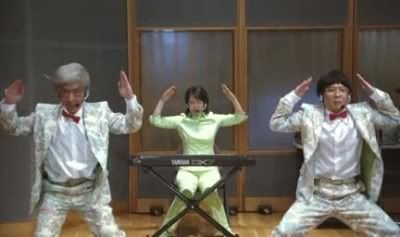 This was a most interesting movie. It's very slooooooooooooooooooooooow. I'll admit I dropped off a bit. This movie is not for everyone. Tellin' ya right now.

This was more of a artsy film. It's a slice of life, photogenic, nostalgic, revealing look of a family. No violence...okay, someone got beat up but it's not what you think. No bad language. No sex. No car chases. Lots of visuals. The end was the most stimulating you'll see. Lots of sitting around saying nuttin'. Lots of fast cuts to other scenes.

There were a few funny scenes. Grandpa was a hoot. OMG! When he sang with his son at the recording studio. I was laughing my butt off!!

Very strange.

I really don't know how to describe this movie. It wasn't bad. It just wasn't my "taste of tea". But hey, Asano Tadanobu looked great even though his part was minor..........