Starring:
Vic Zhou as Fang Zi Tian 方織田
Patty Hou as Chang Bai Hui 常百惠
Alan Kuo as He Ma Yang 何馬揚
Megan Lai as Ren Ke Xin 任可欣
Zhu De Gang (朱德剛) as Cheng Jia Jun 成家俊
Teresa Ji as Cheng Qiang 成薔
Zhang Yong Zhi (張永智) as Gao Qiao 高橋
Deng Jiu Yun (鄧九雲) as Lu Chuan Lin 陸川琳
Billie as Jin Dao Po Po 金刀婆婆
Gu Xuan Chun as Gu Jian Xian 辜見賢
Xu Zhen Wei (徐振偉) as B Pang B胖
Eric Tu (涂百峰) as Eric
Cha Ma Ke (查馬克) as Cha Ke 查克
Tang Qi as Tang Tang Jie 糖糖姐
Gui Ye (龜爺) as Gui Ye
Lin You Fang (林有方) as Zhu Rou Biao 豬肉彪
Cai Jie De (蔡皆得) as Doctor Cai
Luo Bei An (羅北安) as Duo Feng 多風
Bao Ma (寶媽) as Bao Ma (ep01)
Fei Zhen Hua (費鎮華) as Chang's father (ep01)
Qian De Men as Restaurant manager (ep01)
Wang De Sheng (王德生) as Chang's family friend (ep01)
Eric Chen as teenage Fang Zi Tian
Wu Zhong Tian as Liang Hai Tao 梁海濤
Tai Bao (太保) as Ma Yang's father
Li Dai Ling (李黛玲) as Ma Yang's mother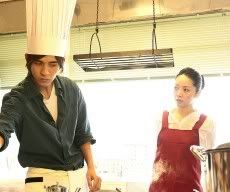 Bai Hui has a refined palate that allows her to enjoy every wonderful texture and taste different cuisines have to offer. Ever since little, food has been the centre of her world. It celebrated her college graduation and consoled her when her beloved father passed away. Her love for eating ignites passion in the heart of a genius chef, Zi Tian, who never found joy in food.



I can't believe it's over. I really loved this drama. There are very few Taiwanese dramas I like especially when most of them are remakes of Japanese dramas/mangas/animes.

Maybe it's because I'm a huge, HUGE Vic Zhou fan. Ever since seeing him in MARS, I've not forgotten and will not forget the trauma my heart went through watching that series. God! So as to say, I chugged along through and fell in love with this one. Alan Kuo was amazing as He Ma. He was sweet, funny and cute. I was hoping they would find him someone in the show to love.

It would be nice to see them make a second series showing their accomplishments as restaurant owners and possible parents. That would be funny and realistic. But that is just my take on it.

I'm really sick to my stomach knowing it's over. The last episode was amazing. I just melted when he sincerely confessed his feelings to Bai Wei. *sigh*

Vic Zhou



Alan Kuo