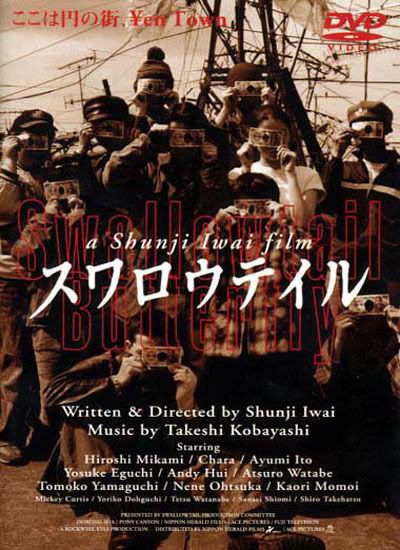 Starring:
Hiroshi Mikami - Feihong
Chara - Glico
Ayumi Ito - Ageha
Yosuke Eguchi - Ryou Ryanki
Andy Hui Chi -On - Maofuu
Atsuro Watabe - Ran
Tomoko Yamaguchi - Shenmei
Nene Otsuka - Reiko
Kaori Momoi - Suzukino
Yoriko Douguchi - Hoshino
Mickey Curtis - Doctor
Tetsu Watanabe - Yakuza boss
Tadanobu Asano - Customer in club
Ken Enomoto - Voice work
Kent Frick
Kahori Fujii - Yuriko
Akio Jo
Sumie Kamogawa
Toshiyuki Kitami
Kenji Kohashi - Hoan
Shiek Mahmud-Bey - Arrow
Kae Minami
Ken Mitsuishi
Ryuushi Mizukami
Chris Peppler
Rolly
Toshiya Sakai
Sansei Shiomi
Keiichi Suzuki
Tomorowo Taguchi
Siro Takehatsu
Hua Rong Weng
Hajime Yamazaki

An industrial section of Japan got the name of Yentown as many immigrants come to make money and hope to go home rich. A small group of people in Yentown try to work together to survive, there is a girl named Ageha who has no family, Glico the hooker, Fei Hong a poor immigrant from Shanghai, Arrow an ex boxer from the US and Ren the mysterious guy who seems to know too much about guns. Fortune shines upon them when they find a cassette that we'll get them rich but along with money trouble will always follow.


This movie was off the scale over-my-head, under-my-feet. I was so confused.

First off, this movie was spoken in English, Japanese, and Chinese. It got so confusing. The English spoken, most of it anyway that was not spoken by an English speaker, was robotic and not fluid.

Second, the script, well.......the story was just wrong! It made no sense in my head. It was just stupid.

Third, well...there is no third. The actors were fine and dandy. Surprised to see a few that our now aged looking so young. I had to cut back a few times to look them up to make sure that the person speaking was really the person that was said to be the actor. Asano Tadanobu was more of a mere glance.

This movie wasn't great, in fact, I think I wasted a good two hours for nothing.