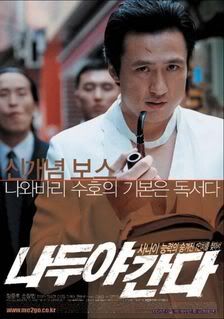 Starring:
Bo-ra Geum - Doctor
Jun-ho Jeong - Dong-hwa Lee
So-yeong Jeong - Yeon-hee
Mi-seon Jeon - In-wook
Chang-min Son - Man-chul Yun
Chang-kyun Choi
Won-seok Yun
Ha-na Yu

Dong-hwa is a complete loser, whose first novel called 'I met Kafka' brought the publishing company bankruptcy. To bring home the bacon, he tries to drive a taxi but only ends up running over someone. One day Dong-hwa is offered a job to do ghostwriting for a CEO named Man-chul, who turns out to be the ringleader of the biggest criminal syndicate in Korea. Dong-hwa soon finds himself perfectly at ease in the mob, while Man-chul starts learning about the other part of the world.

This was a pretty good movie. A little dull in some parts but then in some...hilarious!

The end was pretty good but they left us hanging with Dong-hwa's wife. Where'd she go? Somebody wasn't editing script during that part. And Man-chul? What was up with him? I couldn't tell if he was upset because he wanted out of the "mob" business or if Dong-hwa's antics pissed him off. I wasn't too thrilled with that actor. I think somebody else should have played that part.

But in all, the movie was fun. I have always loved Jeong Jun Ho! He's pretty good when it comes to playing comedic and action parts and put together equals fun!