AKA: Wish Upon a Cow: Love & Farm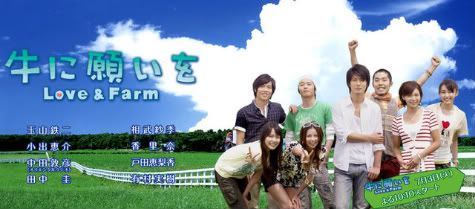 Starring:
Tamayama Tetsuji as Takashimizu Takashi
Koide Keisuke as Mano Tohei
Nakata Atsuhiko as Wakamatsu Ryuta
Aibu Saki as Fujii Ayaka
Karina as Suenaga Mihoko
Toda Erika as Chiba Kazumi
Tanaka Kei as Ashizaki Katsuya
Arimura Miki as Takashimizu Yuri
Hamada Mari as Tsumura Kyoko
Aijima Kazuyuki as Yoshida Muneyuki
Ichige Yoshie as Ashizaki Fukiko
Kohinata Fumiyo as Teranishi Yutaro
Osugi Ren as Takashimizu Hiroki
Asaka Mayumi
Nakajima Tomoko as Miyamoto Natsumi
Nakamura Shido as Kato Akira
Fujimoto Shizuka
Kanai Yuta
Kurita Yoko
Tachibana Ayano (ep01)
Hiraizumi Sei (ep04)
Oka Mayumi

Six agriculture students travel north to Hokkaido for first-hand training and experience in a farm setting. The story focuses not only on their daily life and their growth as young men and women, but also on the economic situation in the region, which received national attention earlier this year when the national government cut off aid to the struggling city of Yubari. -- Tokyograph

This was suprisingly a very, very good drama. I cried a few times during some of the episodes. I laughed at their simple but sweet comedic moments.

Tamayama Tetsuji has done it again! I'm so in love with this guy. He's amazingly versatile. I would never have thought he would play a dairy farmer. What was so amazing was...he seemed in his element milking cows and helping birth a calf. OMG! He stuck his hand up in there. I'm pretty sure that was a real cow!!!
All the players were wonderful. Koide Keisuke is amazing always when he plays the sweet, shy, naive characters. He's very comfortable as an actor.
I'm always telling everyone I know....Japanese (mainly) dramas have metaphors of life. They teach and believe in the way of living. I really like these most. I don't feel drained after a drama. So I smile as I type this because this drama believed in the symbolism of family and the live of a dairy farmer that are becoming extinct.
A definite must see......................