Starring:
Episode 1
U-know / Yun Ho as Himself
Go Eun Ah as Soo Yun
Woo Kyung Ah as Jung Ah

Episode 2
Xiah / Jun Su as Himself
Max / Chang Min as Himself
Park Hee Bon as Young Shim

Episode 3
Jae Joong / Hero as Himself & Chan Shik
Kim Hyun Chul as Mang Chi
Jun Ka Young as Mina

Episode 4
Micky / Yoo Chun as Himself
Shin Tae Hoon as Little Yoo Chun
Choi Sul Lee as Little Jin Joo

The popular Kgroup TVXQ was preparing for a concert...It's been already 4 years since they debuted... During that time the members had stress piled up as well as disharmony between them. So the president delays their concert and gives each member 2 weeks of vacation. Each member leaves for their own vacation while dreaming about their daily escape. The strange and funny things that happen during their vacation... An omnibus TV drama with 4 episodes and 4 different colors...

Episode 1 - Starring U-know


Episode 1
(Cassiopeia)
U-know has been getting letters from a fan, Soo Yun, who has leukemia. Her dying wish is to meet him one day so he goes to visit her at the hospital during his vacation. Then a final note came and said Soo Yun died. Too make sure he went to the hospital but,he lost his words after seeing Soo Yun playing with the other kids at the hospital. Soo Yun says she lied for Jung Ah unnie who is hospitalized at the same hospital. She starts asking U-know to hold a concert for Jung Ah's birthday who got bedridden due to a car accident... After the concert U know goes outside to have a rest with Soo yun. During that time Jung Ah falls out of her wheel chair and gets better. After the Vacation at the hospital U know goes back to his company but soon he gets a phone call saying that Sooyun is dying! He later finds out she has LEukimia!


This was such a beautiful story. I just wish this wasn't so short because they had to rush the friendship and inevitable love that U-know and Soo Yun were forming. Even though it was only a 20 minutes show, the end had me in tears.
I have to say I wasn't expecting much. I really didn't know much about DBSK or the guys in the group. I've heard of them but never showed much interest. I was pleasantly surprised to come across this mini drama. They did an excellent job. U-know is such a cutie. I loved the fly-away hair. LOL!

Starring Xiah and Max


Episode 2
(Beautiful Life)
Xiah and Max goes to the countryside, highest point in the country and where there is only 23 people to avoid people in the city. As soon as they arrive Xiah bumps into a old elderly man who was an mailman. Due to Xiah 's accident Max becomes an mailman and delivers mail all day in the countryside. While delivering mail Max runs into a old elderly woman. While Max was working Xiah was going bathroom on a Nondulyung and got caught by a countryside girl, Young Shim. What will happen in that small countryside village?
Out of the four episodes this one was such a funny one. Poor Max ended up getting groped by three old ladies. I guess living in a village where there aren't any young men around, those old grannies got their fill. LOL! If only I could have been the granny to touch his butt. LOL! Totally hilarious.
But on a serious note, the old mail man had been writing letters to an old lady whose grandson had left long ago. Too make her happy, he had been writing ghost letters for the no-show grandson. Eventually, Max and the old mail man want to help the old lady so they convince Xiah to dress up as her grandson on her 80th birthday. The results, Xiah eventually becomes attached and starts to act really as the grandson. The was a touching story with lots of comedy to lighten the mood.
Again I was pleasantly surprised by this boyband whose music I have never listened to...but will give it a try now.

Starring Jae Joong aka Hero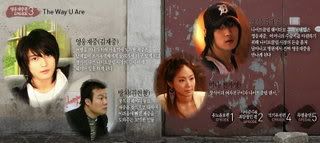 Episode 3
(The Way U Are )
Jae Joong was buying a ticket to go on a trip when suddenly he got dragged by some gangsters and got beat up. Jae Joong had no idea why he was getting beat up and the only thing he heard was the name Chang Shik. With the help of Mang Chi he avoids the dangerous situation. Mang Chi shows a picture of Chang Shik to Jae Joong, who looked exactly like him. Chang Shik was working as a waiter at a nightclub and ran away with the owner's money. In order to get out of the nightclub Jae Joong pretends to be Chang shik and meets Chang Shik's girlfriend, Mina, who is a nightclub dancer. Jae Joong hears shocking information about Chang Shik from Mang Chi...
Will Jae Joong be able to return as TVXQ's lead vocalist Jae Joong / Hero?
This episode was quite interesting. How would you feel if you were wrongly identified as another person but other person looked EXACTLY like you? I wasn't sure how this was going to play out. But in the end, it was a touching story. The only thing I didn't like was the very end. Hero got the crap beat out of him for Chang Sik. There wasn't a Thank You, apology, nothing. Geez, and he had to get back to the band for their concert looking like someong through him under the train. In all, the episode was really good. Another lesson learned.......

Starring Micky


Episode 4
(Eternal)
Micky who hurt his shoulder during the concert rehearsal, visits a beach village where he lived for a while when he was a child. Coincidentally he meets a boy with the same name as his, Yoo Chun, and a girl named Jin Joo, whom Yoo Chun likes. Micky tries to help little Yoo Chun to get closer to Jin Joo but it's no use. While taking a walk on the beach Micky discovers a MokGak doll that little Yoo Chun hung on Jin Joo's neck. All of the memories he had forgotten from April 1994 had all come back. For a moment he lost his words due to the shock. What happened in April of 1994?
Okay, the guys can act. Like the first episode, this one was about lost love. Exception.....Micky had to go in the past to save the girl who died. Was it to right a wrong? As he goes about the neighborhood, he comes to realize the boy he was helping was he/himself as a young boy. Year....1994. After the realization, he starts to get memories of that time and realizes that the girl that the young Micky was wooing was the girl he loved but had died because of him.
Everything was perfect. He makes it in time to save her...but did he? He then wakes up and realizes that he is now back to the year 2006. Did Jin Joo survive? Did he make it in time? Micky will never know...as he had to get back to Seoul for the concert. Cut back.....a young woman stands outside looking at the ocean holding what looks like a wooden carving that the young Micky had carved. The end.
I cried like a freak. Okay. Yeah, you heard me. That he might have been with her. And to top it all off...she died while wishing for Micky to become a famous singer. Allah......DBSK! Yeah, tears are forming again........
Damn those guys....and they had to be cute too?
DBSK
Yes, yes...they are called Tohoshinki in Japan. Got it? Good.
"Micky" Yu Chun
"Max" Chang Min
"Xiah" Jun Su
"Hero" Jae Joong
"U-Know" Yun Ho