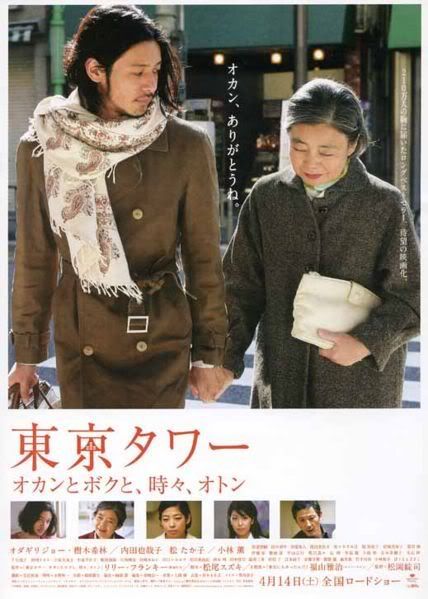 Starring:
Joe Odagiri - Boku
Kirin Kiki - Okan
Yayako Uchida - Okan
Takako Matsu - Mizue
Kaoru Kobayashi - Oton
Tamae Ando
YosiYosi Arakawa
Akira Emoto
Junko Emoto
Chisako Hara
Hiroyuki Hirayama - Isoyama
Itsuji Itao
Ayumi Ito
Ryo Iwamatsu
Ryo Katsuji
Asako Kobayashi
Kyoko Koizumi - Property agent
Hijiri Kojima
Hitomi Kurihara
Mariya
Miyuki Matsuda
Ken Mitsuishi
Aoi Miyazaki
Toru Nakamura
Tsubaki Nekoze
Seiji Rokkaku
Sumie Sasaki
Noriko Sengoku
Sansei Shiomi
Tomorowo Taguchi - Mailman
Rena Takeshita
Tetsushi Tanaka
Susumu Terajima
Satoshi Tomiura - Boku - adolescent
Kumiko Tsuchiya - High school teacher
Osamu Tsuji
Nahoko Yoshimoto
Mieko Yuuki

For Masaya, the last happy memory with his parents together, is his hopelessly drunk Dad forcing him to eat yakitori chicken bars… and being hit by Mom… Masaya was 3 years old at that time. Mom andMasaya left Dad and started living in a town famous for coal mining.Mom worked in her sister's small diner and raised Masaya by herself.The life was peaceful there, free from Dad.

After graduating from high school,Masaya successfully entered an Art University in Tokyo, the place he has always longed to be. However, life never really goes on as a person wishes. His life was rotten. Life was all about fooling around with his friends and killing time.He could not dare call Mom to tell her his situation.

It is now 1990, and Masaya is working just to return the debt, which were mounted while just living in Tokyo and doing nothing. He did whatever he was asked to do, and without really expecting, somehow earned his living as an illustrator/columnist. One day he gets a call from his aunt informing that his mom has cancer.Masaya makes up his mind and calls Mom, to invite her to live with him.

Mom arrives in Tokyo. After living apart for 15 years,Masaya and Mom start living together in Tokyo. Masaya's life seems to have finally started moving once again. Soon, people around him started to frequently gather at his house to eat her delicious food. The house is always filled with happy faces and laughter. However, nothing lasts forever.As they have feared,Mom's cancer has relapsed.

"The day"Masaya is most afraid of draws close…


Omg! I am writing this now before all of the feelings and words escape me.

Please, please, please....sit down with your mom and watch this. I don't care how old you are or young you are. This is a must see for all. I'm still crying. This was the most beautiful story ever shown. Did Joe-san get an award for this? I don't know. If he didn't, well screw all the academy for this. This movie is one of the most greatest movies I've ever freakin' seen. (Side note: Just looked it up and Joe-san DIDN'T win an award but the movie, director, screenplay, supporting actor did!)

On a personal note, I was so related to Joe-san's character, Masaya. I'm not terribly close to my father either. My mother has tried to support my siblings and I for as long as we can remember and still does so. My mother hasn't died, yet. Thank God! But the feeling of bereavement and sadness made this steal heart of mine crack in places it would probably never have done so before.

I can't wait to see my mother again to hug her and thank her!

This movie moves slowly but every moment has a certain touch that all of us should or would understand growing up. Even if the roles are reversed and it was the father instead of the mother. Either way, you will be touched in some form or fashion.

My Joe was, as usual, freakin' outstanding! I'm telling ya to watch that man cry......OMG! You will fall to your knees.

This movie was a 10-star movie out of 4-stars!!!! This went way beyond exceptional...........