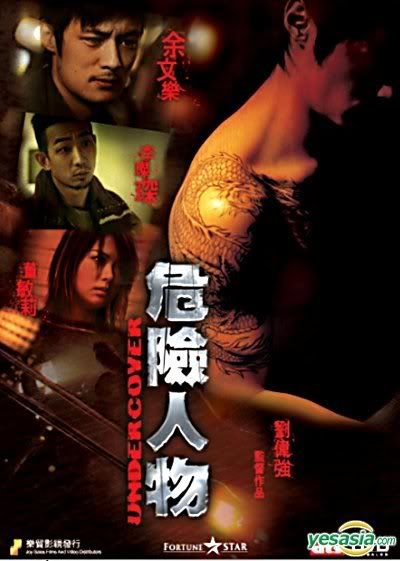 Starring:
Shawn Yue
Sam Lee Chan-Sam
Monie Tung Man-Lei
Eddie Peng Wai-On
Ben Ng Ngai-Cheung
Ken Tong Chun-Yip
Osman Hung Chi-Kit
Otto Wong Chi-On
Marco Lok Lik-Wai
Michael Lam Wai-Leung

Shawn Yue is Feng, a former undercover cop who would definitely come in last place in a "cover your tracks" contest. Not only does he allow his former undercover life to drag his current post-undercover life to crap, but he seems only vaguely interested in self-preservation. One night while he's hanging with former triad pal Fai (Sam Lee), the two get caught snorting coke by a cop (Otto Wong of EO2), resulting in the cop's death at Fai's hands. Fai immediately must go on the run, and looks to his buddy Feng for some assistance. However, their wires get crossed, and Fai starts to think that Feng is out to bust him.

Feng isn't really trying to bust Fai, but the cops are wise to Fai anyway, and it's only a matter of time before they get to him. To save Fai (and probably also himself) from incarceration, Feng must go where he shouldn't: back to Tuen Mun, where everyone hates him for ratting out their former triad boss (Ken Tong). The journey is fraught with the expected difficulties, namely triad guys wanting a piece of him, plus a run-in with his former girlfriend Sandy (the ubiquitous Monie Tung), who has angst-a-plenty over the disappearance of her former beau. Meanwhile, there's a parallel investigation into a just-discovered skeleton, the sight of which unnerves Feng so much that he pukes and passes out. What gives? Is Feng really that much of a pansy about dead bodies? Can he rekindle things with his sweetheart Sandy? And can he clear his name with Fai?



This was sooooooo boring. I mean it bored me so badly I actually fell asleep for an hour and had to rewind where I remember leaving off to finish it. That was a stupid waste of my time.

I really love Shawn Yue, especially when he's working with Nick Tse, but damn if this movie dissappointed me.
There was no sense to be had in this movie. It was more of a "whoa is me" type movie. I felt nothing. Didn't even get upset at the end. Thankfully this movie was only an hour and 20 minutes long. I don't think I could have handled anymore of this crap.
The story could have been great. I idea of a messed up cop was good. They the production company screwed this movie up so badly. There was too much going on or not enough. You choose. It was just a messy movie.
I read another review and they gave it 2 1/2 stars. Really? They had to be sh*tting me! It wasn't even worth a 1/2 star. Why did I finish this movie? Because damn it....it had Shawn Yue. It should have been good. Not!