Starring:
Ha-Neul Kim ... Ju Yeong-ju
Dong-won Kang ... Choi Hee-cheol
Ah-rong Kim
Ji-yeong Kim (07/24/1937) ... Hee-cheol's grandma
Cheon-hee Lee ... Youg-deok
Ju-seok Lee ... Doctor
Yeong-eun Lee ... Soo-mi
Ha-ryong Lim ... The husband of Hee-cheol's paternal aunt
Ji-Yeon Myeong ... Hwa-sook
Sang-mi Nam ... Jae-eun
Su-jeong Nam
Jae-ho Song ... Hee-cheol's dad

Her professional skills of pretense and deceit easily got Young-ju out on parole. On a train to attend her sister's wedding, she runs into Hee-chul, a man in love with a girl he is just about to propose to. By some bad? or perhaps good? luck Young-ju and Hee-chul run into each other and she mistakes Hee-chul as a bum trying to molest her. Their first chance encounter turns out quite embarrassing. On top of that a pickpocket steals Hee-chul's engagement ring! Young-ju is worried that she might be accused of the theft, so she sets out to bring him back the ring. Amidst the hassle, she is left behind on the platform. The train has left, carrying away her own luggage. And all that she has with her is the ring.

What she needs is her luggage back. What she doesn't need is to be accused of theft. Young-ju finds her way to Hee-chul's home and the family seeing the ring thinks she is Hee-chul's fiancee! To wiggle herself out of the situation without adding another crime onto her record, she uses the skills of her profession and cons everyone into believing indeed she is the one.

Meanwhile, our poor Hee-chul returns home without proposing to his girl for lack of the ring, and finds that his family, in fact the whole town now blame him for deserting an innocent woman. Surprise! Surprise!

Now the bout is on between deceit and truth. Conwoman-turned-fiancee of the town's pharmacist vs. the pharmacist framed for rejecting a faithful woman.



Okay, I swear I thought I'd seen this movie. I don't know why I haven't till now. Huh, who knows?

This was a sweet movie. I haven't really seen the comedic side to KDW but I'm glad I have. After the Duelist, *oh, yeah I still have fantasies of him in that* he's been on my radar screen. I will not overlook any of his movies whatsoever just like Matsuda Ryuhei's, Odagiri Joe's, Song Seung Hun's, Kwon Sang Woo's, and Tamayama Tetsuji's.
An endearing tale of resilience, fate yet again strikes. This time it's Yeong-ju and Hee-cheol. These two were a match made in heaven. You love the way how a simple misunderstanding can lead to so many problems. But as fate yet again works it's wonders, the problems are solved and love takes shape.
I love these kind of romantic movies where they hate each other at once but as they get to know each other's weaknesses and strengths, love will bloom. *sigh*

Kang Dong Won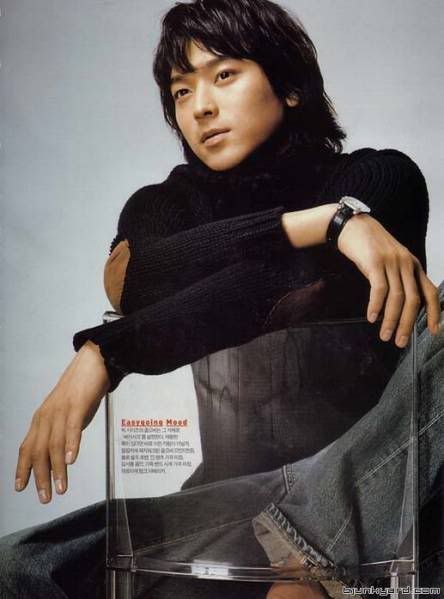 Okay, I went a little overboard on his pics but damn if he ain't fine! Umm...let's add him with Song Seung Hun and Kwon Sang Woo in the best category in Korean male actor list. How could I have forgotten the Duelist? That movie made my toes curl everytime they showed his sword play. God! I think I might have to watch that again.........
Lee Cheon Hee