Starring:
Yu Xia - Chen Wen
Bingbing Li - Liu Rong
Beibi Gong - Li Jing
Qi Gao - Haitao
Chao Wu - San
Yalin Gao - Li Liang
Songyan Tu - Sun Zi
Dayyan Eng - Ian
Lihong Li - Zhang Lin
Xiaopei Song - Liu Na
He Huang - Da Ming
Qing Zhao - Library Guard
Xiaolong Guo - San's Friend
Ting Sun - Leonardo
Xiaoge Feng - Wen's Brother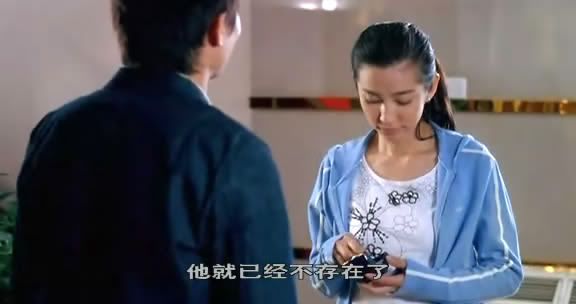 Set in Beijing, the film is a window into modern Chinese youth culture. Waiting Alone is a coming-of-age tale which tells the first-person-narrative story of Wen (Xia Yu), an antique shop co-owner and an aspiring author who feels that he's met the perfect girl (Li Bingbing). But no matter how close he and the girl become, he just doesn't understand why she won't fall for him. Aided by his best friends and the one girl he completely trusts (Gong Beibi), he tries different ways to woo her, playing along within the "rules of the game"...


I'm not a fan of Chinese movies. Maybe it's the language. It's hard for me to catch onto. I'm not sure. Taiwanese is pretty close too. But this movie was really good. Really, really, really good. I giggled throughout the movie. Oh, when Chen stripped down to his underwear thinking he was gonna get some from Liu Rong and instead it was a surprise birthday party. Oh, that was just too funny!!!

Hey, Chen's rocker friend was darn cute!!!! Oh, oh, oh! I was realy impressed with the soundtrack. OMG! It was my first time to hear Chinese rock! And it was good! I would really like to get the OST. Usually we hear the boyband phenomena on most OST in the East. I like a good boyband but sometimes it gets dribble.

This movie wasn't too slow at all. The pace kept you interested and the story alone was wonderful.

Okay the ending sucked.....by my standards. It was a good ending but it didn't end the way I wanted it to. I hate that. I truly do. When can I watch a drama or movie that ends the way I want it to. I will say that it left it open for a sequel but I don't see that happening since it's the year 2008 and this movie was made in 2005. Ugh! Ahhh well.

Like I said before, I don't really prefer Chinese movie but this one was really, truly a good one.