Starring:
Woo-seong Kam
Kang-hie Choi
Tae-woong Eom
Il-woo Jeong
Yeon-hee Lee
Seung-yong Ryoo
Jeong-eun Lim

This is a film that makes your heart flutter at the merest mention of its cast - Gam Wu-sung, Choi Kang-hee, Uhm Tae-woong, Lee Yeon-hee and Jung Il-woo! We take you to the set of "My Love," an omnibus film comprised of five love stories.

The first actor that caught our attention was Uhm Tae-woong. He was wearing rugged clothes with disheveled hair. What happened to you, Uhm Tae-woong? When was the last time you took a shower? Well, does it have got to do with the signboard you're holding?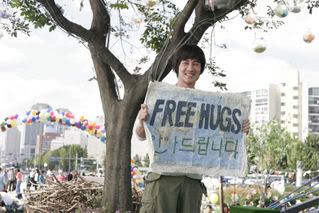 Uhm Tae-woong appears in the first part of this omnibus film. Uhm Tae-woong plays a pure-hearted man who returns to Korea to keep a promise he made to a girl he fell in love with six years ago. Will he be able to meet her and win her heart again?
He also shows a dramatically changed hair-style and unique tattoo.

And here's another couple. Casting off his fun-loving side, Jung Il-woo, star of "High Kick," paints an achingly sweet love story of a 21 year-old man along with Lee Yeon-hee. This is Jung Il-wu's first big screen role.
Lee Yeon-hee stars opposite Jung as a college friend pretending to be cheerful in order to hide the wounds of her broken heart.


Ryu Seung-ryong plays a man who raises a son alone after his wife's untimely death. Lim Jung-eun plays a confident career woman who feels for him despite a big age gap of 12 years.


Meanwhile, Gam Wu-sung plays a subway conductor who can not erase the memories of his former girl friend, played by Choi Kang-hee. Plus, a nine-year old couple also unfolds a sweet love story in the film. We asked them what they think love is.



Oooops! I amost published before I added my "two-cents." LOL!

Still trying to wake up and my morning Diet Mountain Dew hasn't kicked in yet. It's tooooo hot for coffee in the state of Texas right now.

My Love. I wasn't too sure about watching this. I've had it in my "saved" file. I figured I could use a little romance this morning, so I loaded it up. And I'm glad I did.................

I knew this would be a tear jerker from other reviews. And I'm telling ya it really wasn't all that bad. I was afraid I would be like I was after Koizora and cry for days............

This was a touching story of 4 different couples. Two sad endings and two happy endings. My favorite couple were that of the college students. It was fun watching "her" try to drink just one bottle of soju. And when "he" realized at the end, that what he had said a year ago to her, dawned on him that she was the one. That was sweet.

I know many will say their favorite pair was with the subway conductor. In all that was sweet, but I truly couldn't get into "her" because she was so mean to him. Even though it was explained at the end, it was already too late for me. But when he found his birthday present that she had hidden on the train.....okay, I truly teared up there. That was really a good moment.

In all, this was a really good watch. It wasn't the greatest but it was worth watching for all those serious romantics out there...............