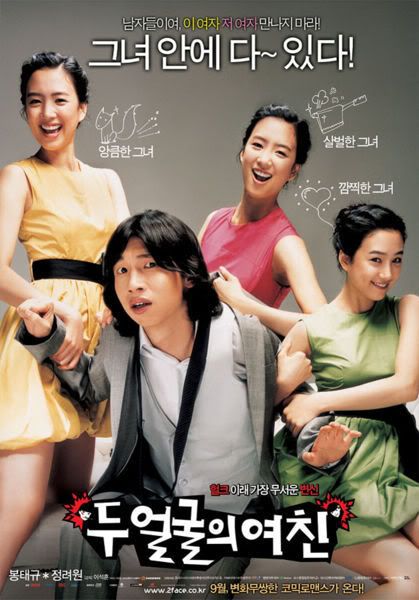 Starring:
Tae-gyu Bong - Gu-chang
Ryeo-won Jeong - A-ni
Supporting Cast
Yeong-ran Jang
In-kwon Kim
Hye-ok Kim
Hae-eun Lee
Young-a Lee
Tae-hyeon Kim - Cameo
Eun-jeong Shin
Dal-hwan Jo

Gu-chang leads a tragic existence. The seventh-year college student constantly fails job interviews and lives off of an allowance from his divorced sister while taking money from his little nephew. To make matters worse, the almost 30-year-old virgin has never had a girlfriend, let alone experienced his first kiss. In Korean, Gu-chang is a homonym for the word meaning "a sore in the mouth."

But springtime finally seems to have arrived for Gu-chang, defrosting the stark winters of his barren love life, when he meets the sweet and innocent A-ni.

All seems to be swell, and Gu-chang gets a taste of heaven as he kisses his pretty girlfriend for the first time -- until A-ni bites his tongue and gives him a nice kick, introducing herself as Ha-ni. And so begins Gu-chang's painful relationship with his split-personality girlfriend, dealing with A-ni's adorably childish demeanors one moment, then defending his life from Ha-ni's high kicks.


Bong Tae Gyu is another comedic genius. He was made for comedy. Not an overly good-looking guy but the way he handles himself in the situations given make him the cutest ever. LOL!

I think I bypassed this movie a hundred times because I thought it would be stupid. Not funny. In actuality, again I goofed. It was quite hilarious but yet sweet. You can't help but feel for Gu-chang who is desperate to have his first kiss. His first anything really with the girl he loves.

And who knew it would get quite serious near the end. There was actually a really good drama at the end to tug your heart. But in the end, Gu-chang won! Woo-hoo! Maybe there is somebody out there for everybody. We just have to wait and see what the fates have in store for us.........