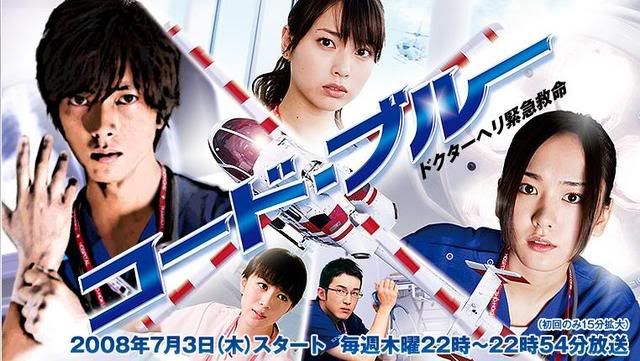 Starring:

Yamashita Tomohisa as Aizawa Kousaku (Flight doctor-in-training)
Aragaki Yui as Shiraishi Megumi (Flight doctor-in-training)
Toda Erika as Hiyama Mihoko (Flight doctor-in-training)
Asari Yosuke as Fuikawa Kazuo (Flight doctor-in-training)
Higa Manami Saejima Haruka (Flight nurse)
Kodama Kiyoshi as Tadokoro Yoshiaki (Emergency Unit Chief, Special appearance)
Katsumura Masanobu as Morimoto Tadashi (Flight Doctor)
Ryo as Mitsu Kanna (Flight Doctor)
Yanagiba Toshiro as Kuroda Shuji (Flight Doctor)
Sugimoto Tetta as Saejo Susumu (Brain Surgeon)
Terajima Susumu as Kaji Toshi (Pilot)
Hiwatashi Shinji (樋渡真司) as Anzai Yasuyuki

Guests
Kawashima Umika as Kuriyama Miki (ep1)

The drama's full title is "Code Blue: Doctor Heli Kinkyu Kyumei." The concept is based on Japan's proposal for an emergency medical service using helicopters to quickly reach those in need. A special bill was passed in June 2007 that should foster widespread adoption of the system. Yamashita stars as a young doctor-in-training, working under the guidance of an experienced "flight doctor" (Toshiro Yanagiba). Some scenes will be filmed with a real helicopter, adding to the show's tension. ~ tokyograph

Okay, I downloaded the first episode that is finally....YES, FINALLY....subbed in English. Agh. I thought we'd never get to see it. Anyway, this will be what I know so far about the series....per episode 1. And, yes, I will be downloading the rest.

This was an awesome show.

Yamapi's character in more like a genious doctor. His faults are, though he maybe gifted and talented as a newbie doctor, he's very cold. He doesn't have the gifted bedside manner and he treats his fellow newbies in the same fashion. I do believe though we might see a love interest with his fellow newbie...Shiraishi.

I will also add the character who plays Fuikawa, Asari Yosuke, was a little goofie but he'll be the doctor that contains the heart. He was very loving towards the girl who had juvenile diabetes. His last scenes had me tearing up. I really, really, really like him.

What's left are the girls. I'm still wishy-washy on them.

I will keep all my fellow English speakers, and non-English speakers, informed as the serious and subbed episodes come along. LOL!



Looks like our Yamapi has been working out as of late. He's lost that baby fat and is looking more like a man. *purr, purr, purr* I don't know if I can control myself. DAMN!

This pic is from the beginning/opening of the show as he gets ready to start his first day at the ER. OMG! This shot will never leave my head.