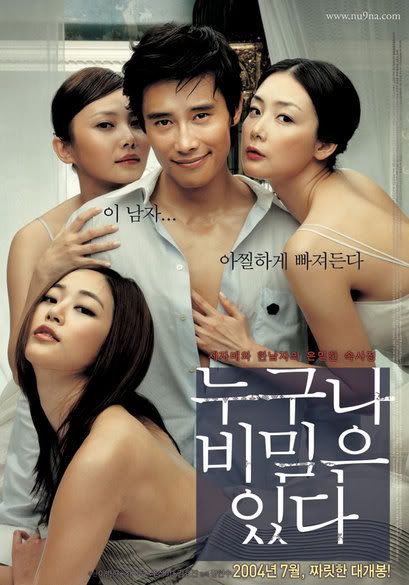 Starring:
Byung-hun Lee - Choi Su-hyeon
Sang Mi Chu - Han Ji-yeong
Hyo-jin Kim - Han Mi-yeong
Ji-Woo Choi - Han Seon-yeong
Yongnyeo Seonwoo - Mother
Hae-gon Kim - Ji-yeong's husband
Jae-hyeong Jeon - Han Dae-yeong
Jae-hun Tak - Sang-il
Min-a Jang
Bo-seok Jeong
Jun-ha Jeong
Hyeong-jin Kong
Yi Shin
Everybody Has Secrets revolves around Soo-hyun (Lee Byun-heon) and three sisters. While he is falling in love with the youngest sister Mi-young (Kim Hyo-jin), he also tries to seduce her two sisters, the "old virgin" Sun-young (Choi Ji-woo) and the married Jin-young (Chu Sang-mi). The three sisters are captivated by Soo-hyun's sweet talk and begin to put morality aside...


This was a weird movie. You'll understand at the end. I was like..."Huh?" Three girls hot for the same guy. Okay. He is cute and all but as you watch the show, you either hate him or your totally disallusioned. I did feel that their was something amiss but he slept with all the girls so it through me off guard. I was hoping he would hook up with the second sister but yoiu come to think she is psycho by the time his courtship with her is through.
I really don't know what to make of this move. I really don't. I'm going to say it was okay but not all that great. I really think they could have worked on the script just a wee bit more. Some kind of ellaboration would have been better. In all, this movie is okay to rent but to buyor download......neh!