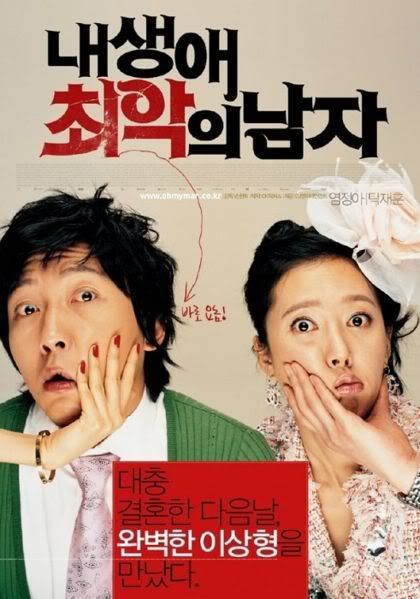 Starring:
Jung-ah Yum - Ju-yeon
Jae-hun Tak - Sang-tae
Ji-min Yun - Mi-yeon
Seong-rok Shin - Jae-hoon
Hie-bong Jo
Seon-a Kim - Cameo
Yi Shin - Cameo
Hyeon-jun Shin - Cameo
In-gi Jeong
Dong-seok Ma
Su-jeong Eom
Min-seok Oh
Ji-eun Oh

Ju-eyon and Seong-tae have been best friends ever since they first met each other 10 years ago. But in one night their 10 year friendship comes crashing to the ground after they sleep together. The comfort and security of marriage is a siren call, and the two decide to forego their ideals to spend their first day as man and wife. However, their perfect lover soon appears right in front of them: A sexy editor appears to seduce Seong-tae and an advertising director appears to tempt Ju-yeon. With a single smile they turn the newlyweds' dream into a nightmare. Even after only a few days, they soon find themselves faced with the worst choice of their lives as they struggle to reach happiness.



LOL! Oh this was rich! Totally different spin on the love/hate relationships.

I really liked the concept. It's a great thing to be able to love and marry your best friend. If you can be friends for 10 years....then love will come unexpectantly. Yeah, I really liked this movie. The trials and tribulations they had to go through to really, really understand that the basis of their marriage began with friendship.

This was real and understandable. And, even though they began as friends, they also had to go through the hard times too like any marriage would. We, myself included, has gone through those rough patches. This was a great movie. And to think this was a romance....yeah, I really liked the true to form of this romance. This seemed like the real kind instead of the monotonous Korean love triangles we viewers are subjected to.

My heart bled for them both and cried at the end. Bravo!!