AKA: Crazy For Waiting


Starring: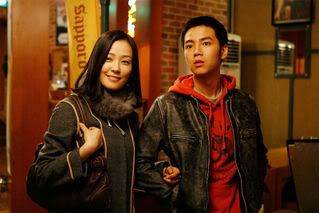 Couple 1
Tae-yeong Son - Hyo-jeong (Physical Therapist)
Geun-seok Jang - Won-jae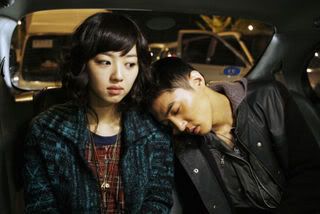 Couple 2
Hie-jin Jang - Bo-rang (Keyboardist / Singer)
Danny Ahn - Min-cheol


Couple 3
In-yeong Yu - Jin-a (College Student)
San-ho Kim - Eun-seok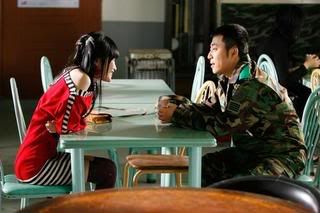 Couple 4
Yeo-reum Han - Bi-ang (lived in Wook's Apt.)
Seung-min Woo - Wook
Supporting Cast
Young-jin Lee - Ha-na (singer)
Ki-woo Lee - Ki-sung (in love with Jin-a / best friend of Eun-seok)
Tae-hyeon Kim
Ji-min Hong


Most male students head for the military barracks after finishing their first or second year in college, and many of them go through relationship troubles when they leave their girlfriends behind.

The film presents four different couples and depicts how they cope with the challenging period in a largely lighthearted fashion. The first couple is Won-jae (Jang Geun-seok), a college student who is officially in his early 20s but looks like a teenage boy, and his girlfriend Hyo-jeong (Son Tae-young), a physical therapist who is pushing 30. Apparently, their conflict revolves around their age gap, even when they remain apart due to Won-jae's military service.

The second couple is in the same music band. Bo-ram (Jang Hee-jin), a shy keyboardist, has a crush on Min-cheol (Danny Ahn), a tall and handsome band leader who is showing affection to another female band member, even when he is in the military. The emotional tug-of-war between Bo-ram and Min-cheol is a little bit more convincing than other couples, thanks to Jang's delicate performances throughout the film.

A very typical love triangle unfolds for the third couple: Jin-a (Yu In-young), who believes she's the prettiest and cutest girl in the world, and her faithful boyfriend Eun-seok (Kim San-ho). When her boyfriend has begun his service, Jin-a sends him a nice gift package including what she calls "Love Candy," but her devotion turns out to be not so solid when she feels lonely in the absence of her boyfriend and in the presence of his close friend (played by Lee Ki-woo).

But this is the fourth couple that goes to the extreme. Or the fourth girl, to be exact. Bi-ang (Han Yeo-reum) is living in her boyfriend's house -- Hur Wook (Woo Seung-min) -- and she takes full advantage of his absence to seduce another man and even invites him to live with her.


Okay, this movie was so truthful, I will have to tell you.

How do I know it's truthful? I am a military wife. For a person who has never seen their loved ones leave you for an extended period of time, will not understand this movie at all. But...it will give you a general idea of what we face and what our loved ones face while being deployed.

My husband's first deployment almost killed me. He was sent to Korea for a year. I, at that time, was a weepy wife with a toddler.....and we were left behind. My husband's second deployment, he was sent to Bosnia/Kosovo on a joint mission for 9 months. While in Kosovo, 9-11 happened and it was an awful time. Worried that my husband, an American soldier, would be targeted by Al Quaeda. Again, I was a weepy wife. Within 6 months of my husband returning home, he was sent to Afghanistan. He was gone 9 months. At that time, it was even scarier because they were sent to flush out Bin Laden. Again, the weepy wife. Not even two weeks of returning from Afghanistan, my husband was immediately sent to Iraq. He was gone 12 months and 2 weeks. Let's just say I was persistent in keeping the cell phone on my person and fully charged at all times. But I will say this, everytime he left, the feeling of loneliness wasn't as long. My husband has gone to Iraq an additional 2 times since then. He is currently in Iraq right now. This time, I'm not worried and I have my kids to keep me busy and occupied.

On a sad note, some of those women portrayed in themovie are true to form. I have known many a wife/girlfriend who betrayed their husband's, lost love, or just couldn't cope being alone. Each one of those women, I have known. Each one of those guys, I have known.

These guys need support from us from all sides of family and friends. Sometimes we forget that their jobs are more stressful and are more alone than we are. Yes, they have their friends in arms, but those friends are having to deal with the same issues as well.

From this army wife........"HOO-AH!"

So, yes this movie was touching and realistic in a Korean fashion. And sometimes I forget that it isn't just the U.S. that goes through these hardships too.............