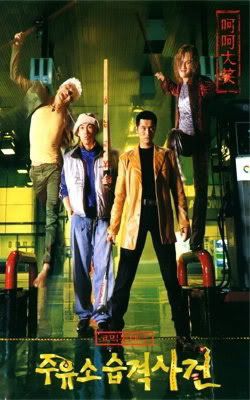 Starring:
Sung-jae Lee - No Mark
Oh-seong Yu - Mu Dae-po (Bulldozer)
Seong-jin Kang - Ddan Dda-ra
Ji-tae Yu ... Paint
Yeong-gyu Park - Gas station owner
Jun Jeong - Geon-Bbang
Yu-won Lee - Ggal-chi
Jeong-ho Lee - Meek man
Seung-chae Lee
Hak-cheol Kim
Myeong-kuk Kim
Su-ro Kim
Won-jong Lee
So-yeong Jeong (11/16/1976)
Eung-su Kim

Four guys with nothing better to do decide to rob a gas station. When they find out there isn't as much money as they expected, they lock up the employees and take over to make more money. They don't know how to run the gas pumps, and when the customers complain, the guys take them hostage. Everything is more or less under a chaotic kind of control, until they order Chinese food and make the mistake of harassing the delivery boy. He rounds up a bunch of other delivery boys to attack the gas station. Another confrontation with a high school gang and the local mafia provokes a bigger fight. Finally the police arrive for the final showdown.

This was a pretty good movie. It wasn't all that but it was crazy! LOL! The only reason I really watched this was of one particular man....Lee Jong Hyuk!!! His role was very minor, fleeting. He sang and danced and was just as cute as ever. *sigh*

Other than that, this movie was just a fun comedy of mischief. Keep you occupied on a boring day. Might make you laugh or groan. I guess it depends on your taste in action/comedy.