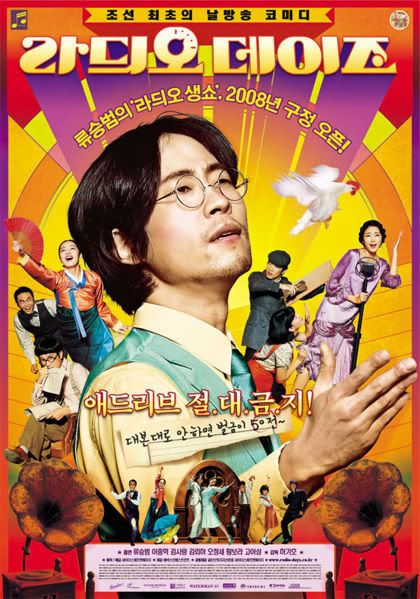 Starring:
Seung-beom Ryoo - Llyod
Jong-hyeok Lee - K
Sa-rang Kim - Marie
Bo-ra Hwang - Myung-wol
Jeong-se Oh - Man-chul
Roe-ha Kim - Mr. Noh (screenwriter)
Ah-sung Ko - Sun-deok

A young radio station manager, Lloyd (Ryoo Seung-beom), undertakes a live drama series which is commissioned by the Japanese rulers. The main voice actors in this show are not professionals. A jazz musician, a courtesan and even a clueless office clerk are invited to perform in the drama, and the scripts are largely ignored, as the actors resort to liberal ad-libbing. Despite the shoddy production quality, the radio show becomes a huge hit. This movie pokes fun at the broadcasting practices of the time, as well as at Japanese rule.


One of the BEST movies I've seen yet. Damn! This was a fresh, refreshing movie. Different. So totally out of the normal Korean spectrum!

Other than my favorite Korean actor ever, Lee Jong Hyuk, being in this movie which in fact adds a zillion kudos...........*sigh*

I don't know what more to say....just get off your asses and watch this movie! It's quirky but not overly funny to make it obnoxious or annoying. It's smartly written and acted. Ryoo Seung Beom was intelligent in his portrayal of Lloyd.

Once this movie makes it to the American market, I'm so on this one in my Asian collection (which I've just recently started......)

I can't say enough about this movie. Damn, it rocked!!!

I'll lay off the Jong Hyuk pics for awhile....LOL! I can't get enough of him and I know there are more to come........*sigh*

Ryoo Seung Beom